On Belay!? NOPE
Can I Climb!? Climb Away!
Taking it to new heights!
In the climbing world, June 3, 2017 will go down as one of the most iconic days the sport has ever had. Just like November 12, 1958, January 14, 2015, and maybe June 13, 2017. Not familiar with these dates or what it meant to the climbing world? I'll outline them for you real quick:
November 12, 1958 – The first ascent of El Capitan (El Cap) in Yosemite National Park by climbing pioneers Warren Harding, Wayne Merry, and George Whitmore. Their ascent of "The Nose" took 47 days to complete – a feat that changed the future of climbing forever.
January 14, 2015 – The first free climb (using only rope, cams, and nuts) of "The Dawn Wall" on El Cap is completed by Tommy Caldwell and Kevin Jorgeson over 19 days. Labeled by many as the most difficult climbing route in the world.
June 3, 2017 – The first fee solo (no rope, no harness, no protection) on El Cap. Alex Honnold completed the Freerider route in just 3 hours and 56 minutes.
June 13, 2017 – Ok so this is not a date that will be remembered like the above ones but it marked the first "Birthday Suit Climb" on El Cap. Talk about exposure.
Ok, back to June 3, 2017. If you're a rock climber, outdoor enthusiast, or even just someone who keeps up with current events with the occasional scan of Outside Magazine, then you've heard of Alex Honnold. He is, in my eyes, the best free solo climber to ever live. He has put up the most iconic solos the rock climbing community has ever seen. Quick definition: Free Soloing means that you climb without a rope, without a harness, without protection. You fall, you die. Simple. Which is why it's the sport's purest form of climbing.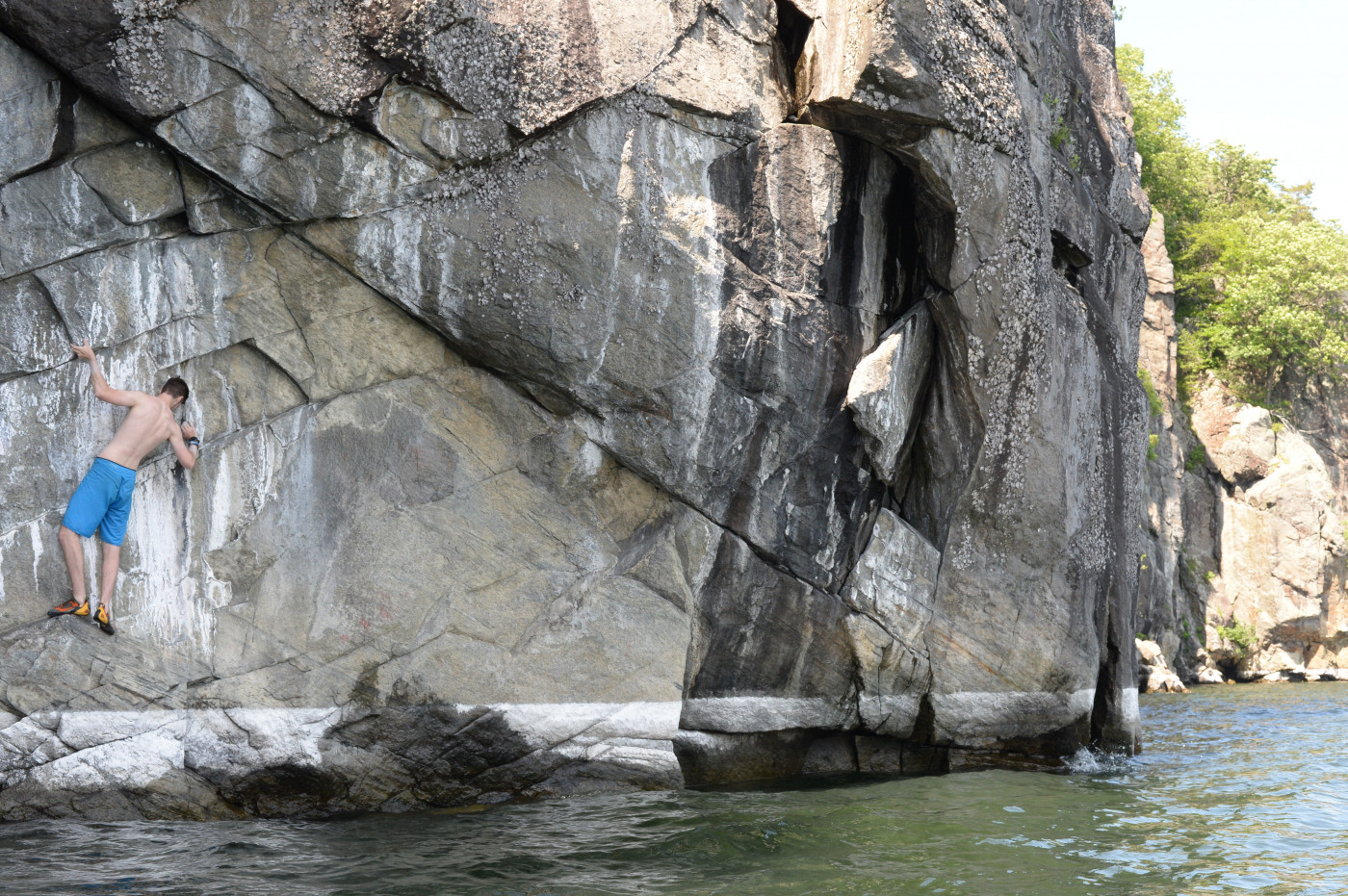 As an avid rock climber I have dabbled a little bit with free soloing. Is it scary? Yes, of course it is. Why do I do it? Because it's taught me a lot about myself. See, when you know that if you fall you either die or get seriously injured, trust has a whole new meaning. Every hand hold has to click with you, every foothold, locked in. Every time I soloed I found myself so dialed in that the only thoughts going through my head were, next foot up, next hand up. You get into your own little world.
Naturally, after hearing about Alex's fee solo I had a strong urge to solo myself. I could have gone to any of the crags in the Adirondacks but I had heard about this spot in the Lake Champlain Region where you could deep water solo. Deep water soloing means you free solo the route, but there is deep water under you rather than solid ground. It's pretty rare to find places like this. Here, if you fall, you plunge right into the water.
It's a perfect way to spend a summer's day and dabble in free soloing for the first time with a liquid safety net of sorts to catch you.
So some climbing buds and I headed to The Palisades. Because the base of The Palisades (rising 200 ft. out of the lake) is only accessible by water we canoed, kayaked, and paddleboarded in – which is an adventure in itself. Lesson learned: If you have a motorboat, take that from the Westport Marina – the paddle is 4+ miles each way. Our plan was to create a trifecta of support from the water: the kayak — used for taking photos; the paddleboard— used as the first responder after someone fell (or jumped) in; and the canoe — used as our base platform to start the route.
Since this rock doesn't see a lot of climbing, the quality is fantastic - some of the best I've climbed in the Adirondacks to date. Great texture and no sign of chossiness (rock that crumbles when you put pressure on it).
I'll admit it, the first route I tried to climb intimidated me. It was overhung, had tiny finger holds and, as I climbed, the height seemed double of what it actually was. I got to my first crux (hard part) on the route that did not have any hand holds. It was either launch up and try to grab what I thought would be a good hold, or push back and drop into the water. I looked for any possible hold I could use but, nothing. I knew I had to drop. It was then that I made a crucial error: I looked down. The maybe 20-foot drop felt like 40. It was a shock, and I am not used to feeling that way. I've only ever been lowered down a wall, not free fallen. After a mini pep talk with myself I pushed back. Splashing into the cold water I couldn't help think that I would touch the bottom, which added to a little of my anxiety, but I wasn't even close. It was a nice confidence boost for the rest of the day.
The Palisades offer quite a few routes, and my favorite was what we called, The Nose. The Nose is a famous route on El Cap so it fit perfectly with our infatuation with Honnold. The route extended about 80 feet out of the lake with great finger and foot holds. It was my last route of the day so I knew I had to push it. I was comfortable with jumping off into the water by now, but my first two routes here stumped me. As I climbed I tried to really dial in, one foot at a time, one hand at a time.
Then, a few boats passing by noticed what I was doing. They headed over and started to watch. Pressure was on. I've never climbed with a large crowd watching before. I took a few peeks over my shoulder to note the height as I progressed upwards. After all, I would have to jump back into the water in order to paddle back to shore. I got to what I felt was the highest point in order to safely free-fall back into the water. I gave the notice and pushed back. Note: look carefully and maybe you'll catch the look of 'holy-moly'.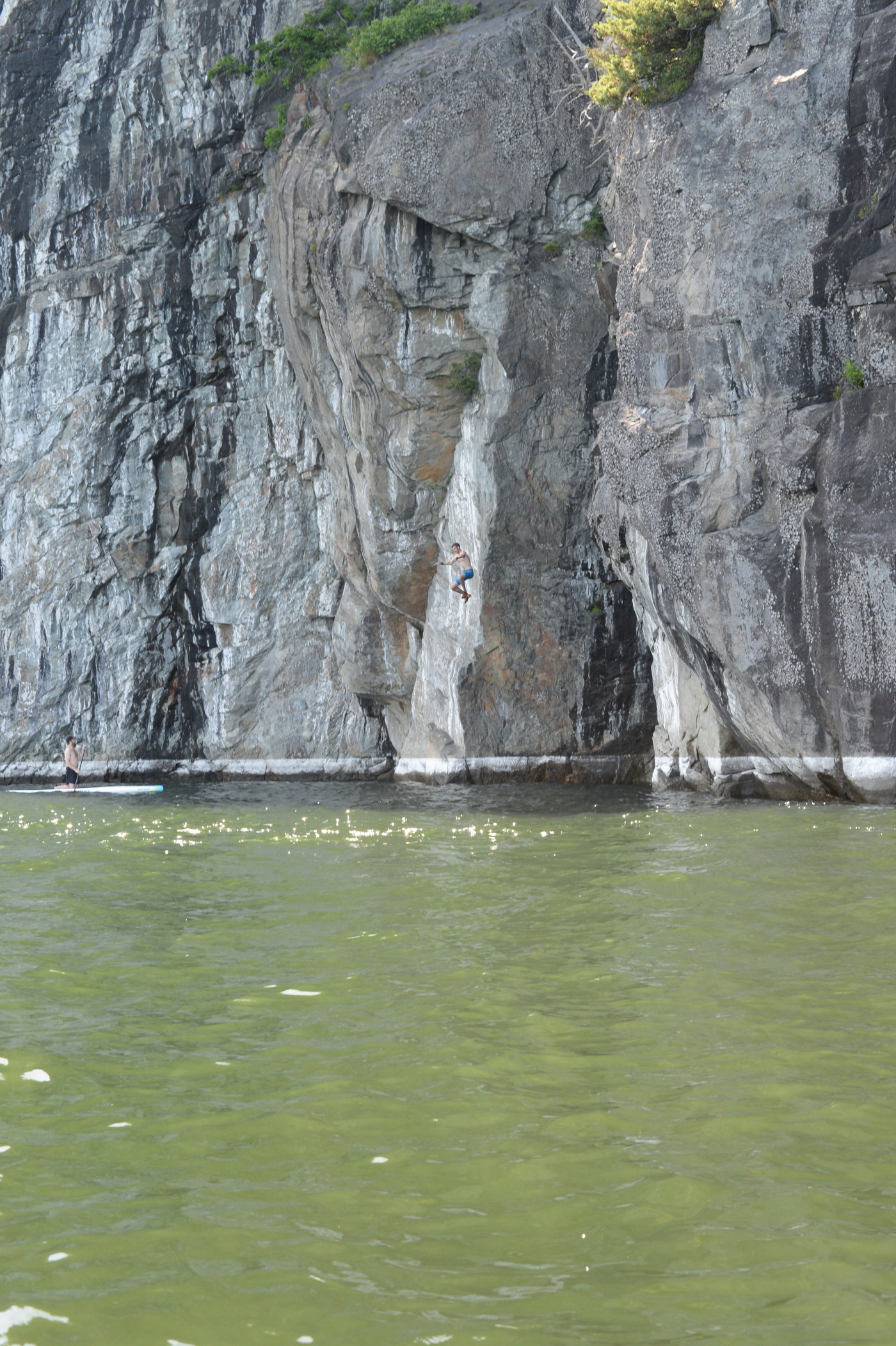 I felt like I was free falling for a minute, enough time to have a few thoughts run through my head and have everything register. The speed you're traveling at, the wind rushing by you, and the water fast approaching. When it clicks you burst out in excitement. Woooooooooo! Splash! Surfacing, you're overcome with pure joy. You just free soloed, the purest form of climbing there is. You just took a leap of faith and plunged into 100+ ft. deep water. And you're still in one piece!
As I noted before, places to go deep water soloing are pretty rare. There aren't many places to do it on the East Coast, let alone the United States. So experienced climbing enthusiasts take note. The Palisades on the Lake Champlain Region's Adirondack Coast are a must-visit and a must free solo. There isn't much beta on the routes there either, leading me to believe there could be some first ascents put up. Call your climbing crew, schedule a weekend, and get ready for a truly unique experience.
Hey, you may even run into me there as I plan on heading back as many weekends as possible. Happy climbing!