It happens every year.
Even with a calendar to reference, and anticipation of my favorite season looming, fall sneaks up on me before I'm done enjoying the summer months. Without a pause between seasonal activities, I'm left scrambling to make good on the plans I've concocted to make the most of the polychromatic spectacle that we're about to witness.
Those plans include immersing myself in the vibrant Adirondack fall foliage from an assortment of perspectives. I plan to view the scenery from the surface of Lake Champlain in my kayak, from the rocky summit of a peak I've never climbed, from the seat of my road bike, and, of course, from behind the handlebars of my motorbike.
I know that if I successfully complete only one of those plans, it will likely be the latter.
As we all know, the topography of the Adirondacks is anything but featureless. From the rolling fields of the Lake Champlain valley to the rugged High Peaks and beyond, there are huge swaths of wilderness tracts, dramatic elevation changes, and thousands of lakes, ponds, and rivers. You'd think it would require a map, compass, and licensed Adirondack guide to get around at all.
That might be the case for the backcountry (and I highly recommend hiring a licensed guide to show you the ropes), but believe it or not, the region lends itself very nicely to road touring, and you CAN get around to view the stunning foliage using today's popular modes of transport.
In fact, there are magical ribbons of smooth pavement that wind throughout this majestic landscape. They're ideal for motorcycle touring, but four-wheeled vehicles will also enjoy the views!
Conveniently, I've identified the Ultimate Adirondack Fall Riding Tour, presented in two loops depending on one's point of access —one from western New York and one from eastern points.
So strap that camera to your helmet and let's ride!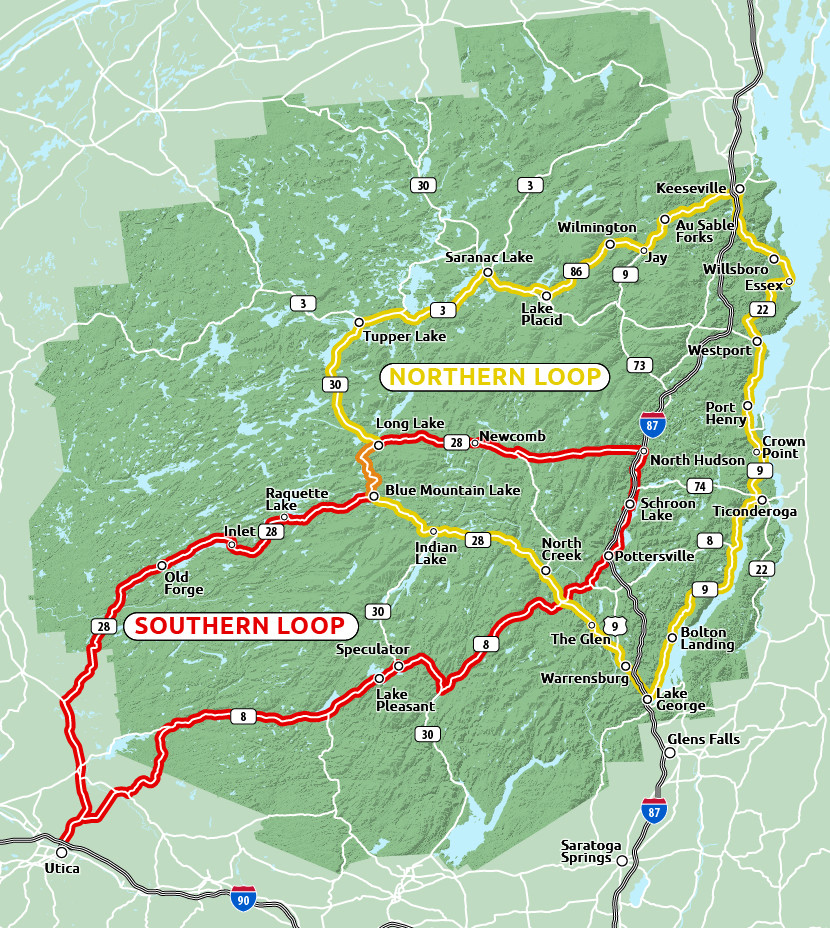 Southern Loop
This loop is accessed from all points west of the region — beginning on Route 28 near Utica —and explores some of our most scenic roads, including my absolute favorite, the recently newly-paved Blue Ridge Road.
DIRECTIONS:
Take Route 28N to Old Forge.
Continue on 28N to Inlet, Raquette Lake, and Blue Mountain Lake.
Take Route 30 to Long Lake.
Take Route 28N to Newcomb.
Continue on 28N, turn left on Blue Ridge Road (Route 84), and go for 31 miles to North Hudson.
Take a right on Route 9 to Schroon Lake and then Pottersville.
Take Route 9 to Wevertown, then Route 8 on toward Speculator.
Take a right on Route 30 into Speculator/Lake Pleasant.
Continue on Route 8 to Piseco and Morehouse.
Route 8 takes you back to Interstate 90.
Online resources in case you want to stay: 
AdirondackExperience.com   |  SchroonLakeRegion.com
Northern Loop
This loop begins and ends on the north-to-south Interstate 87 (I-87) and meanders along Lake Champlain, through the High Peaks, and then a series of "lake" towns — Saranac, Tupper, Long, Blue, and Indian!
DIRECTIONS:
Jump off I-87 near Lake George and head north on Route 9N.
In Ticonderoga, 9N combines with Route 22. Take this to Westport.
In Westport, continue on Route 22 to Essex and Willsboro, then over the mountain to the intersection with Route 9.
Take a right on Route 9 and head to Keeseville.

Option: Take an out-and-back jaunt to Ausable Chasm by continuing north on Route 9!

From Keeseville, take Route 9N to Ausable Forks and then Jay.
Take a right on Route 86 to Wilmington.

Option: Ride up the Whiteface Mt. Veterans Memorial Highway!

Continue on Route 86 to Lake Placid.
Continue on Route 86 to Saranac Lake.
Take Route 3 to Tupper Lake.
Take Route 30 to Long Lake and continue to Blue Mountain Lake, where it combines with Route 28.
Take Route 28 to Indian Lake, North Creek, Warrensburg, and back to I-87.
Online resources in case you want to stay:
LakeChamplainRegion.com    |   VisitMalone.com   |    TupperLake.com
SaranacLake.com   |    LakePlacid.com    |   WhitefaceRegion.com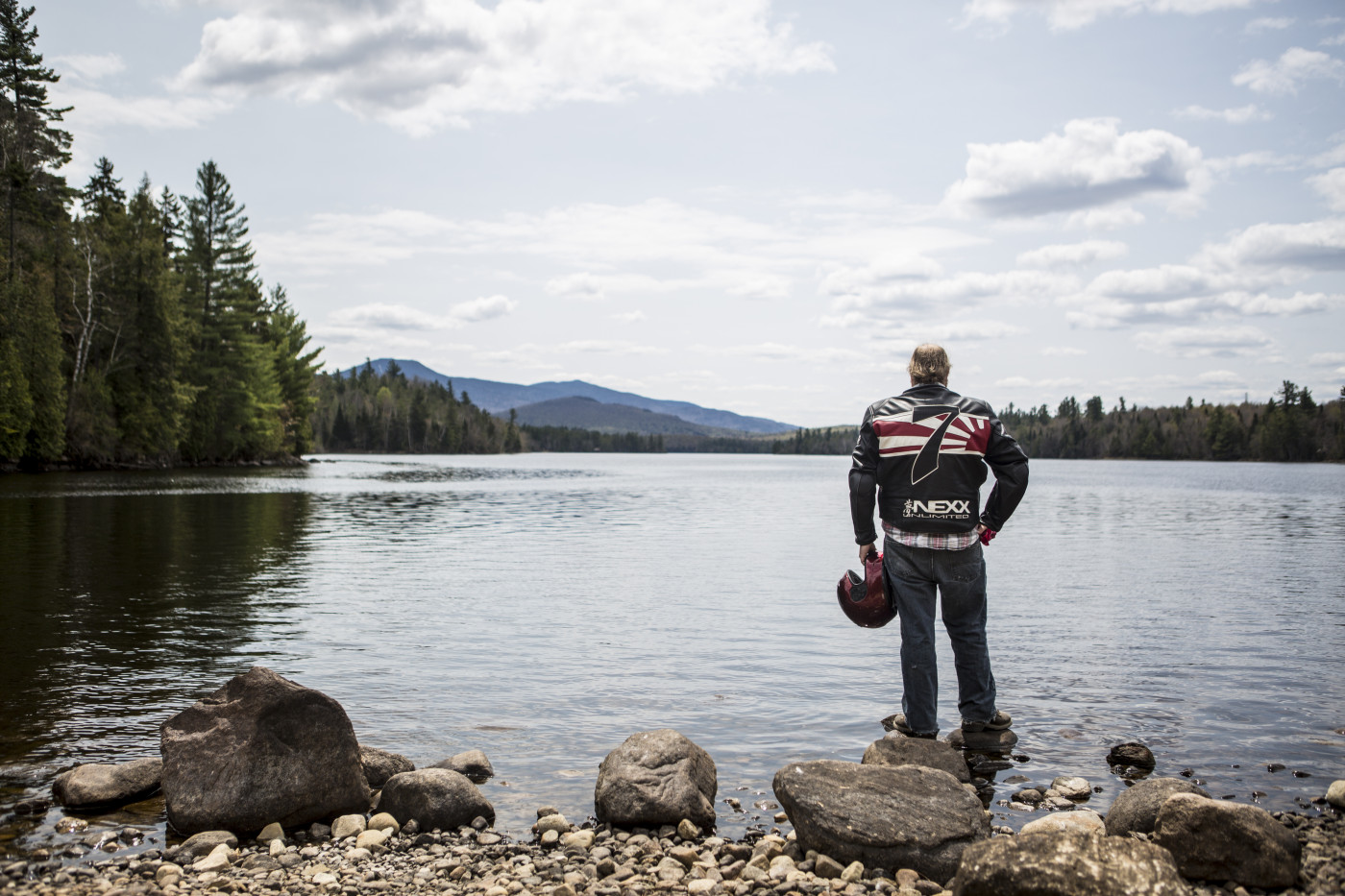 (Originally published in LocalADK Magazine)