Say you're like me, and you can't downhill ski. Your body just ends up in a tangled heap. Try cross-country, everybody says, it's easier, but when you do, your skis inevitably cross and the same thing happens, only you flail around in a painfully laughable slow-motion pantomime of skiing before you crumble to the ground.
Ok, snowshoe then? A fine suggestion, and worthwhile to be sure. But man, sometimes you want to go fast. Or at least a little faster.
So, what's someone like me left with? Until a few years ago, very little, I'm afraid. And wouldn't you know it, this fat tire bicycling thing comes around, and I'm left asking, "Where were you when I needed you, fat bike?" Well, you're here now, I think.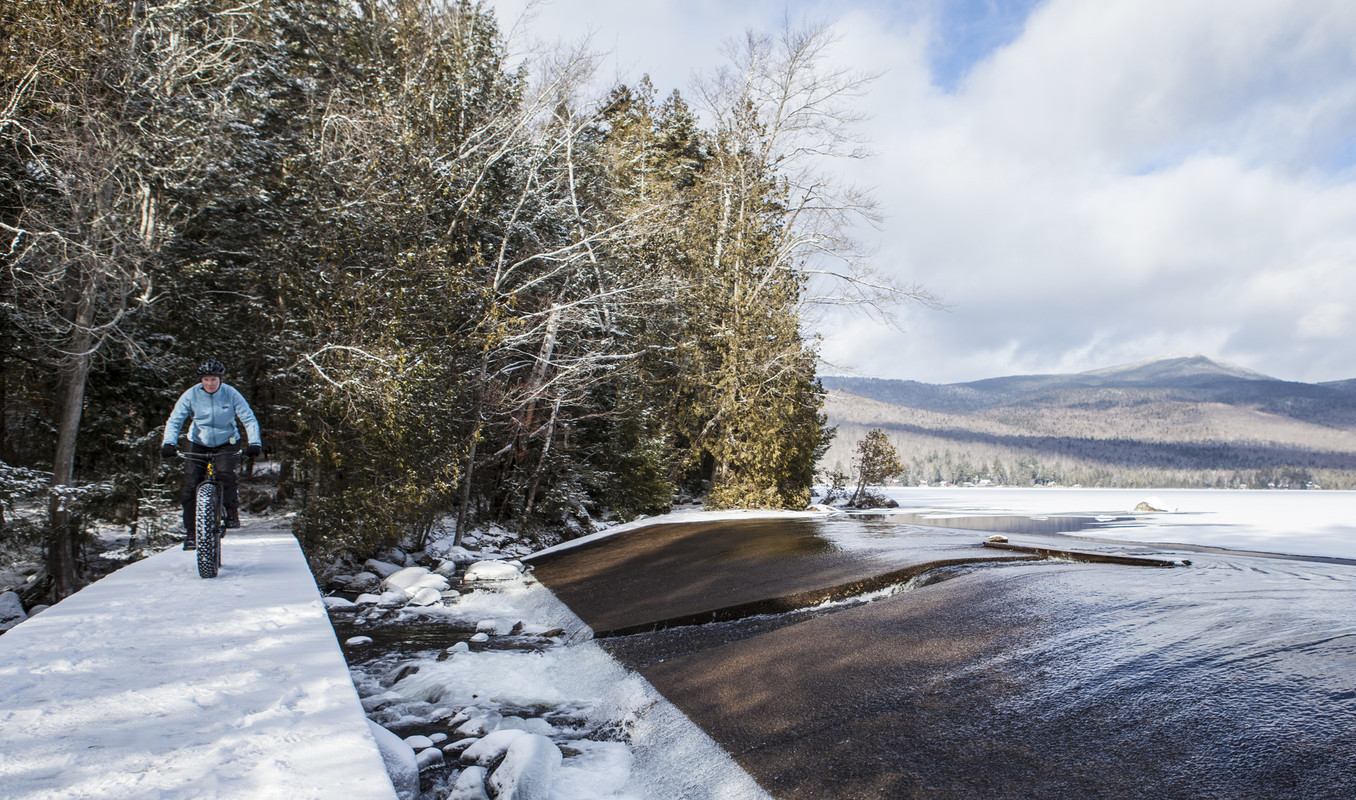 If you've never seen one before, you might laugh and ask yourself, "Why? Why would they put such clown shoes on an otherwise normal, seemingly well-adjusted bicycle?"
Admittedly, it does kind of look like a toddler stuck some toothpicks into a couple of chocolate glazed doughnuts, but if you've ever taken off on a regular old mountain bike in the middle of a snowstorm to get some pizza, you may have noticed how easily — almost-assuredly — you will crash. It's how my friend Johnny broke his ankle, in fact. That's because most mountain bike tires run around two-and-a-half inches wide, with a PSI (pounds per square inch) in the mid-20s. They sink, squib out, and send you to the ER. Fat tires, however, run four to five inches wide, and you only inflate them to between six and eight PSI.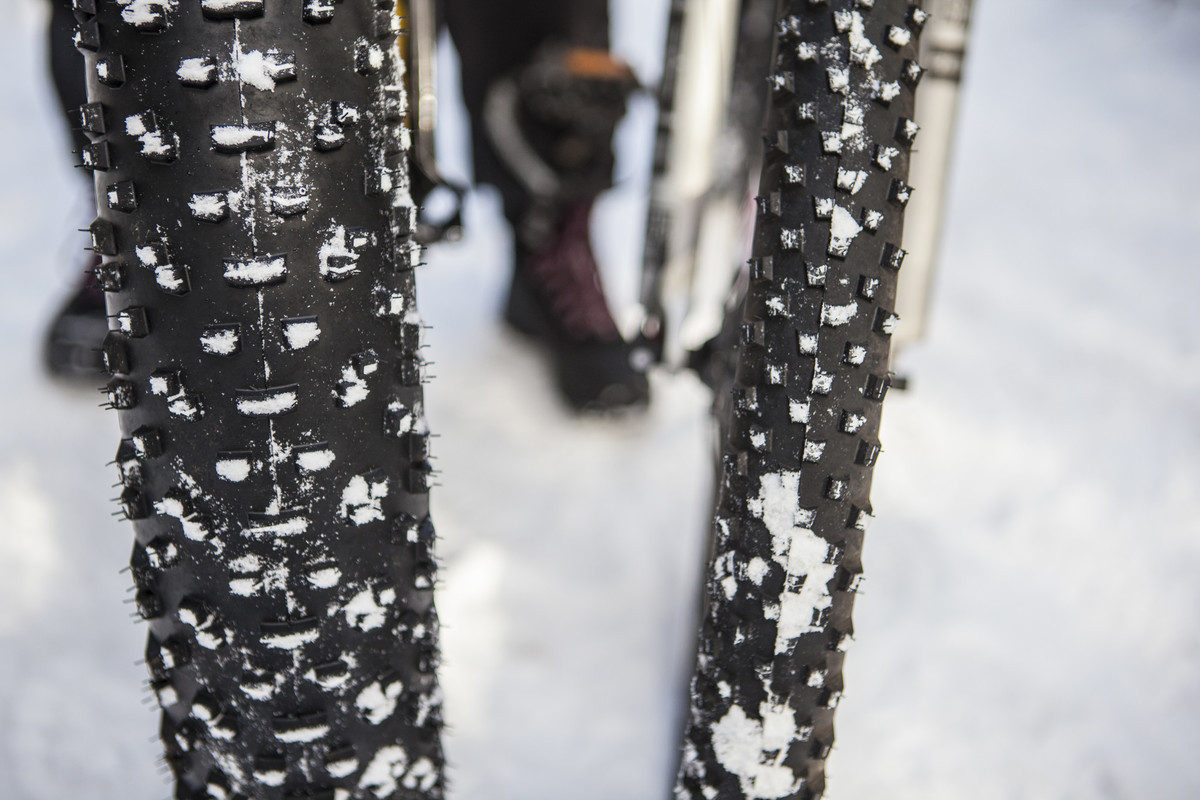 As Shane Kramer, a bike technician at Placid Planet Bicycles in Lake Placid, told me, those dimensions mean more tire comes in contact with the riding surface, which means more traction. And, coupled with the low pressure, it almost feels like floating when you're on one.
"It's hard not to giggle when you see them," Kramer admits. "They're just kind of playful looking, and when you're out, it definitely brings back the feeling of being a kid, just kind of messing around in the snow."
Basically, if you know how to ride a bike, you know that feeling. But, like any outdoor winter activity in the mountains, there are some things you'll want to keep in mind before heading out.
Number one is dressing appropriately. If you cross-country ski or snowshoe, you can pretty much dress exactly as you would for that. If you don't, "dressing appropriately" means a few things.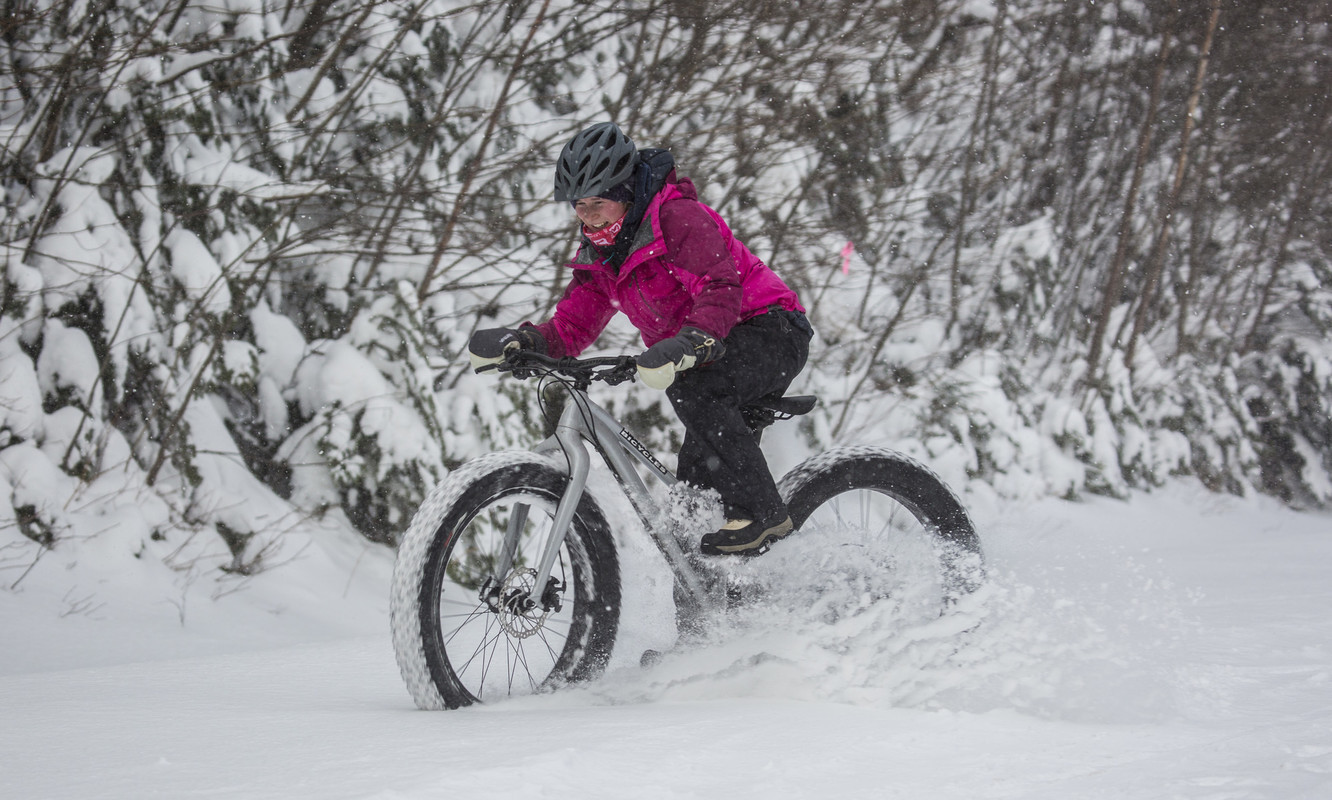 First, no cotton. You're going to work up a sweat on the fat bike, especially if it's been a while since you've cruised on two wheels, and cotton will basically become an ice suit. So, start with a good thermal base layer made of moisture-wicking material (your synthetic polyesters, your merino wool blends, whatever feels most comfortable against your skin).
A decent pair of snow pants will do the trick down low, and if you keep layering those moisture-wicking fabrics up top, increasing the thickness as you go, you'll be able to shed layers and shove them in your backpack as you heat up. Speaking of backpacks, bring one, and make sure it has some water and snacks and a heavier jacket you can throw on if you get cold — hey, it's winter the Adirondacks, staying warm, dry, and comfortable can be a balancing act.
You'll want to be able to feel the pedals as you ride, which means waterproof hiking boots and wool socks win out over thick Sorels or similar winter boots. But if big winter boots are what you have, they'll work fine. Also definitely don't forget your hands. Warm gloves are a must.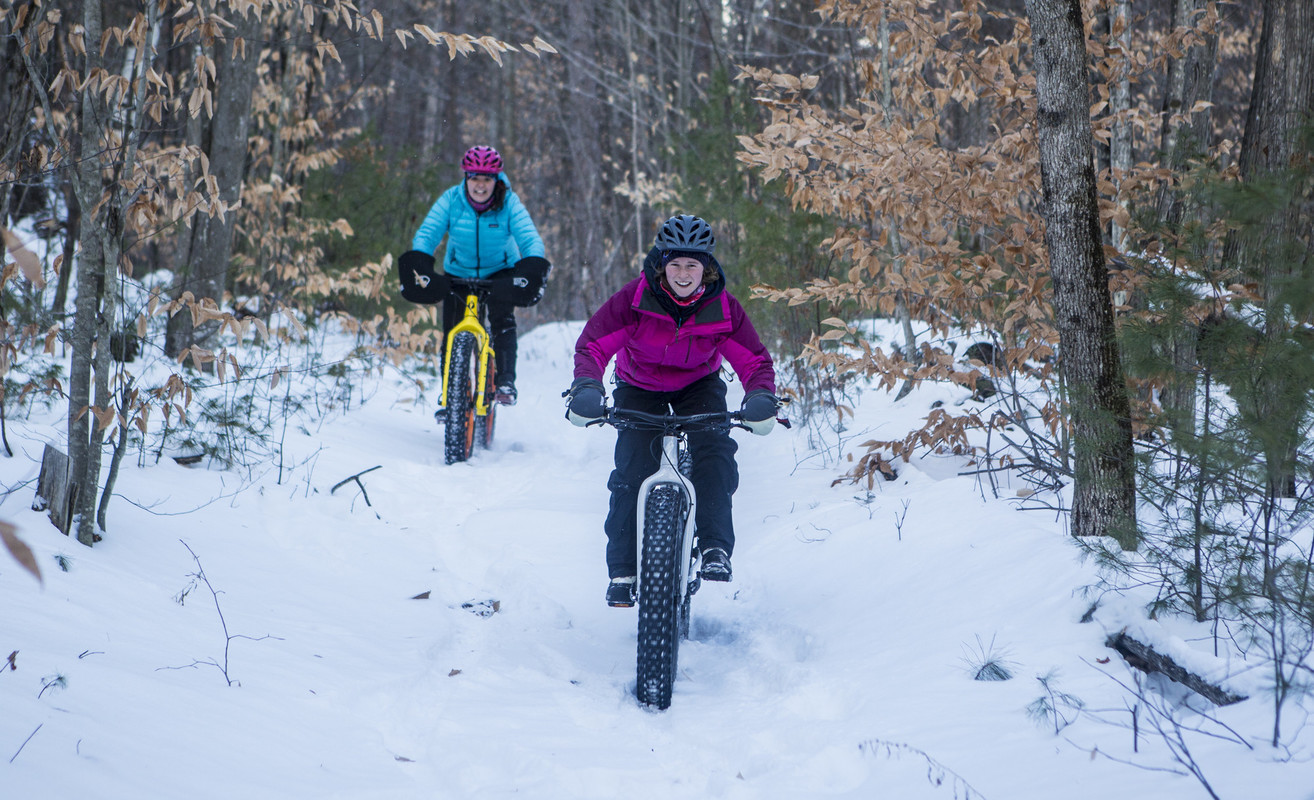 Ok, so you're dressed accordingly, which means it's time to hit it, right? Well, maybe. Not all days are created equal in the Adirondacks, and when it comes to fat biking, don't go if it's above freezing, for example, because you'll bog down in the soft snow and leave a pretty big rut behind you, which will stay there when it all refreezes, messing up the trail. Also, if a lot of snow fell the night before, you're going to have a tough time pedaling through it.
The best thing to do is call Placid Planet Bicycles or High Peaks Cyclery in Lake Placid — they're the ones who'll be renting you that bike and helmet anyway — and ask how the trails are. If you're nice, they'll even direct you to some good places to go.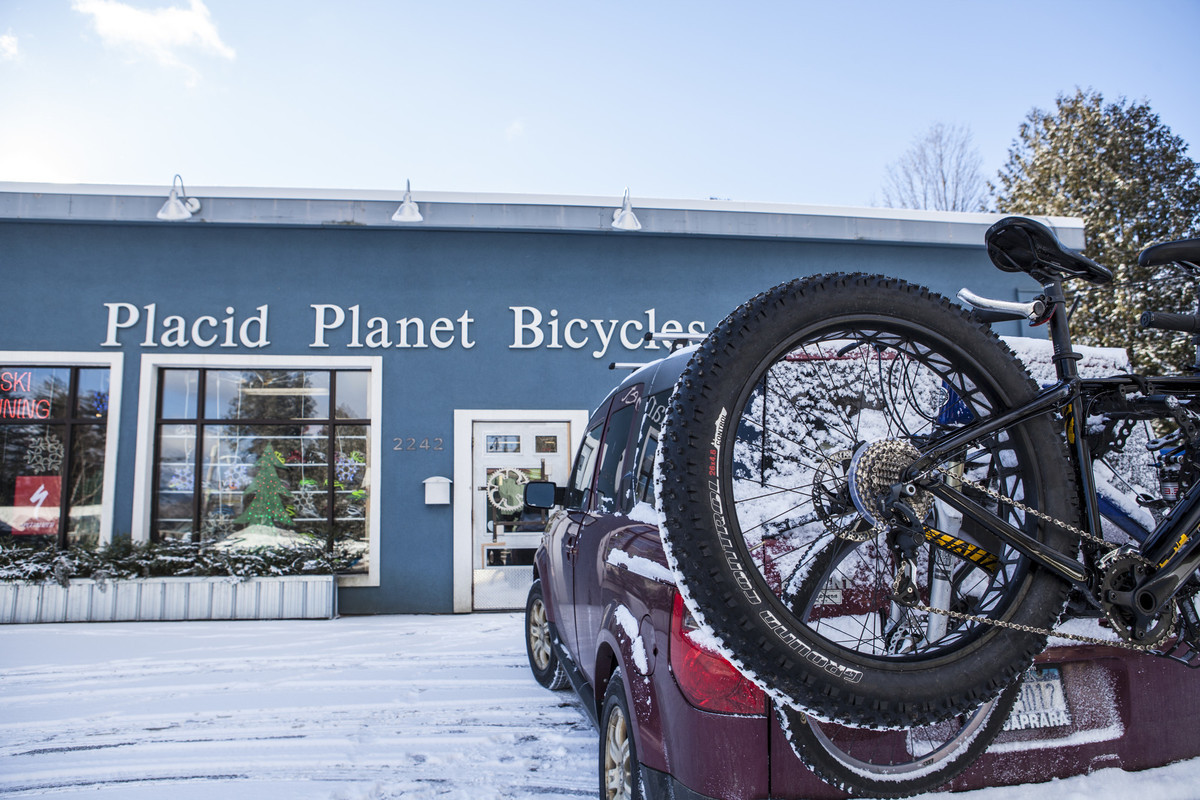 According to Josh Wilson, executive director of the Barkeater Trails Alliance, your best bet starting out are those trails close to Lake Placid, like the Peninsula and Lussi trails, along with those at Henry's Woods and Craig Wood Gold Course, because they usually see a decent amount of multi-use traffic.
You can also ride on any mountain bike trail, although Wilson admits that the growth of fat biking over the past few years has outpaced the infrastructure a bit. So, while BETA grooms some of the 60 miles of mountain bike trails in the area for fat biking, a lot of the trail conditions are dependent on the weather and how heavy the traffic on them has been.
Wilmington has long since become the summertime Adirondack mountain biking hub, and when the conditions are good, Wilson says venturing down Route 86 to pick up the Whiteface Region trails can provide some of the best wintertime fat biking experiences the area has to offer as well.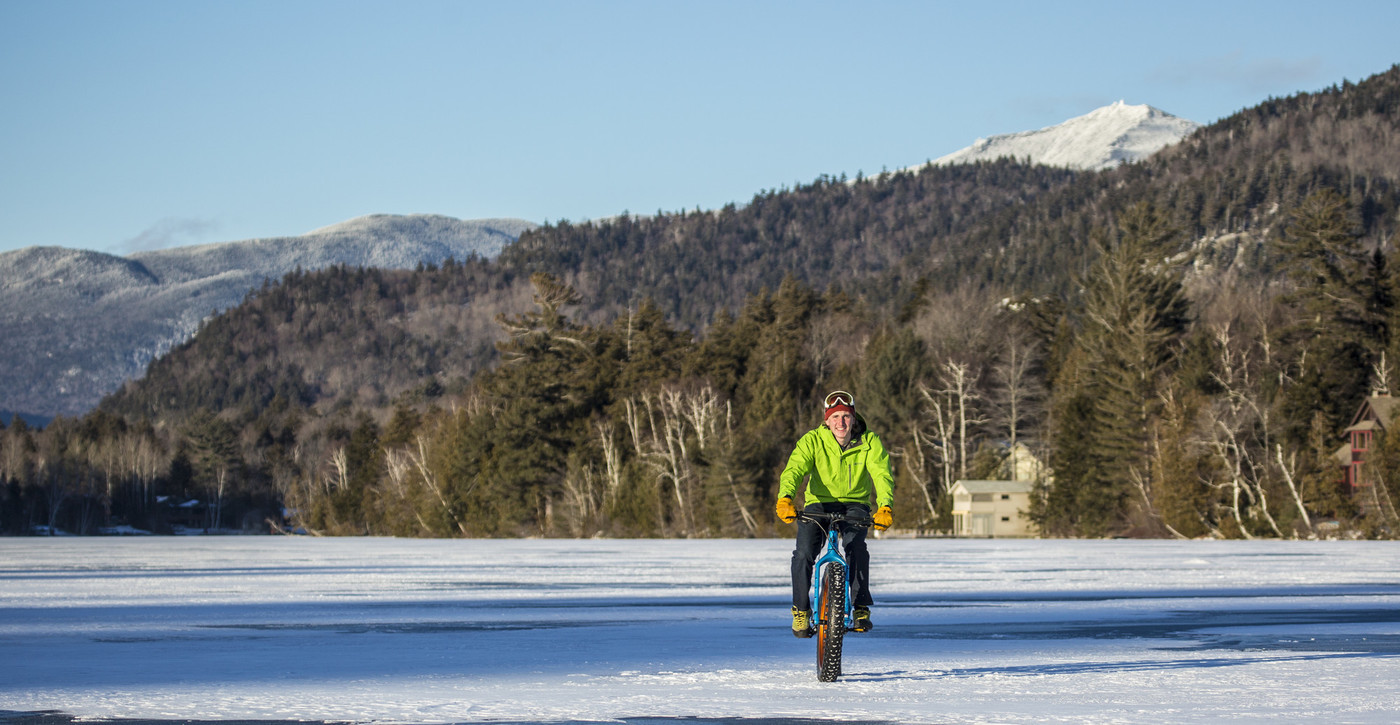 Wilmington's trails snake through state forest preserve land, so no grooming takes place there, but if you've developed a good comfort level on the bike, feel like tackling more of a challenge, or are just looking to break away from Lake Placid for a day, these are the trails in particular that'll truly make you feel like you're fat biking in the Adirondacks.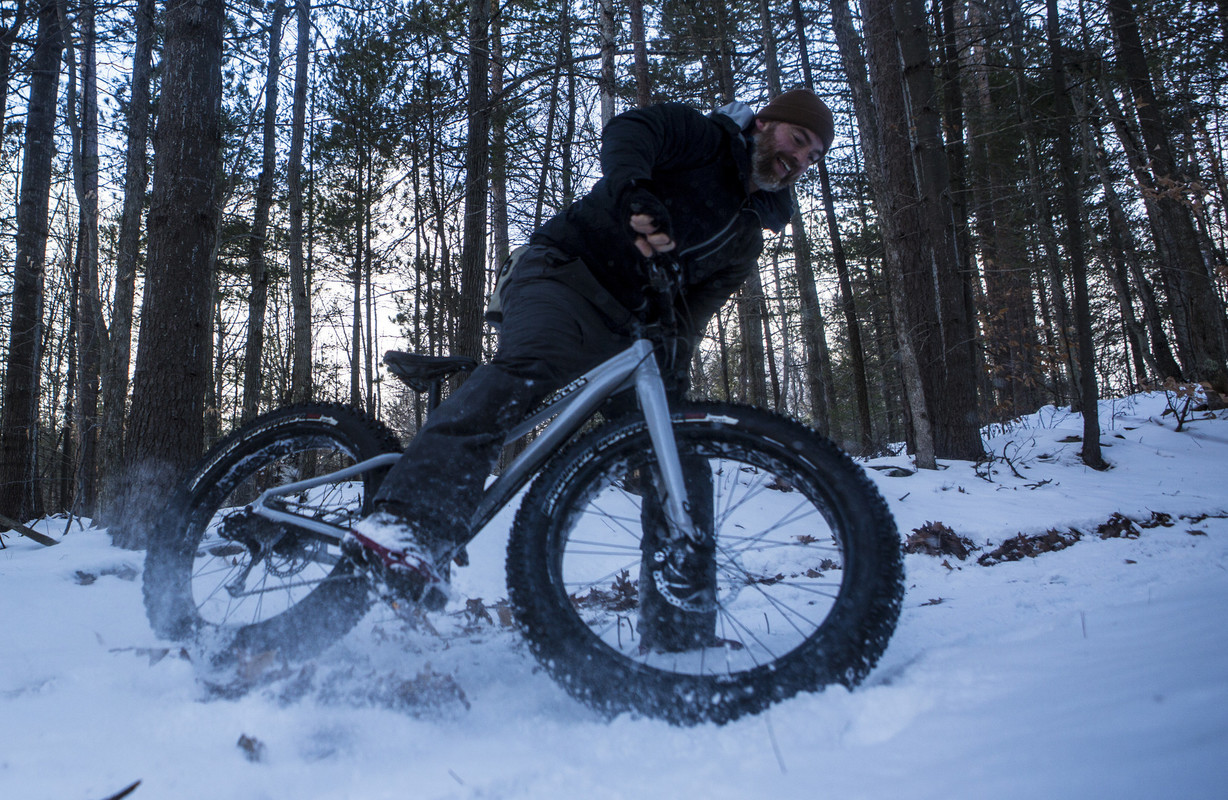 Thirsty for more insider knowledge, tips, and exactly where to go and what you're in for? Check out these first-hand fat biking accounts and additional resources: