Summer in the Adirondacks means long hikes through emerald forests, sunny days on glistening lakes, and, most importantly, ice cream! Nothing caps off a day of adventure better than a sweet, cold cone. Hard ice cream, soft ice cream, milkshakes, sundaes—many ice cream stands are only open for a few months, so get as much of this seasonal treat while you can. In fact, make a day of it and take an Adirondack ice cream tour!
I know what you're thinking—that's a lot of ice cream. But carpe diem, give me another scoop! Beer, wine, and food tours have become a common and creative way for people to explore new regions. Why not do the same with ice cream? Almost every town in the Adirondacks has at least one ice cream stand. While it would be unreasonable to stop at every single one (imagine the stomach ache!), you can easily replace a couple meals with frozen treats and check a few off the list.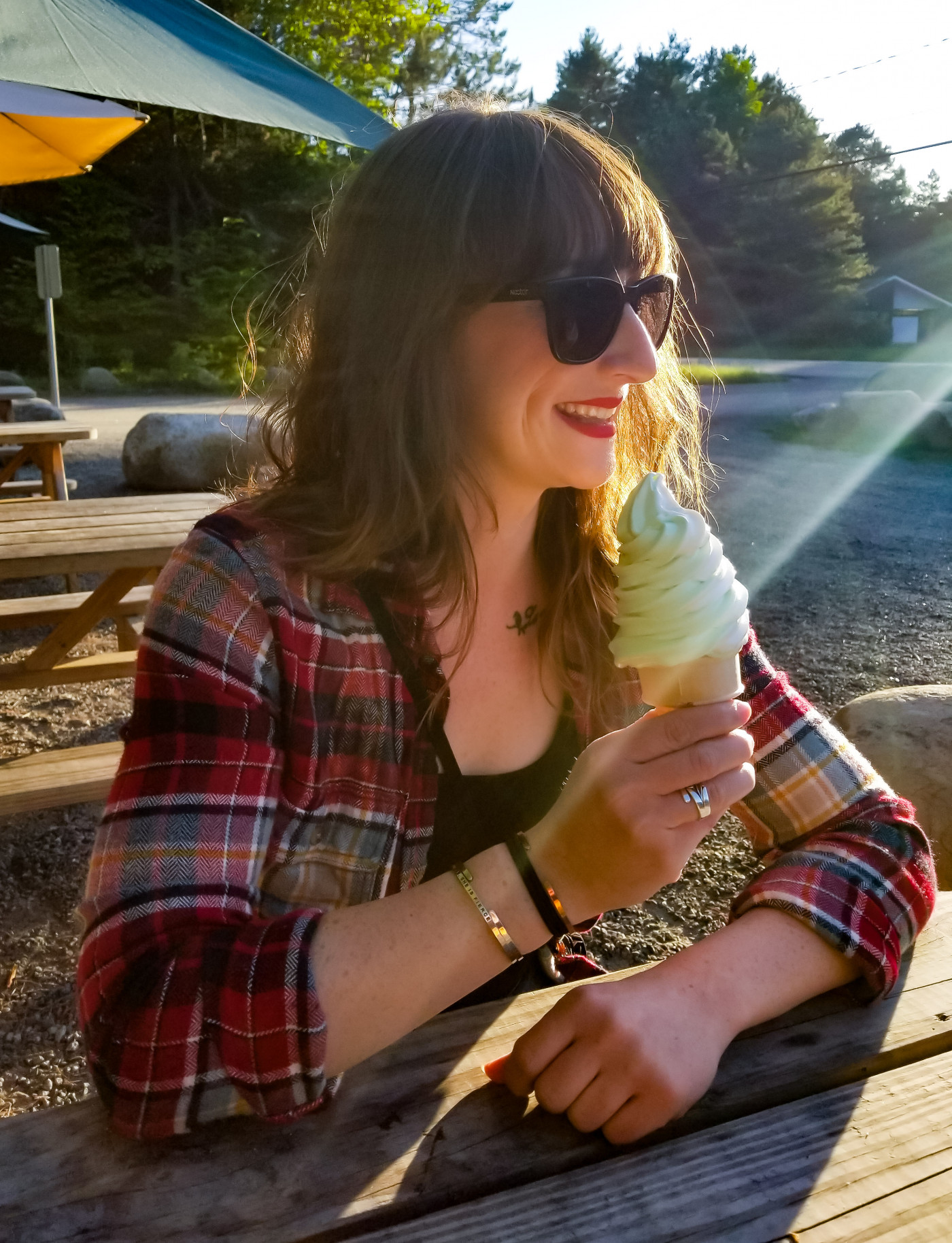 To help you on your way, I've put together four Adirondack Ice Cream Trails. With routes leading from the southern, eastern, and northern Adirondacks, and one throughout the High Peaks, these ice cream trails will give purpose to your next scenic drive. A few pro tips before we begin (and yes, I have eaten enough ice cream to qualify as a professional):
Eat a good breakfast. You want to have a solid base of healthy food in your stomach before you pile in a bunch of ice cream. There are tons of great breakfast spots throughout the Adirondacks!
Work up an appetite. Go for a hike or paddle before you set off on your ice cream journey, or make small adventure stops along the way.
Pace yourself. This is a marathon folks, not a sprint. Take time between stops to enjoy the local area and let the last cone settle.
Be reasonable. You may be a hero, but you're still only human. Order a small (or even a "baby") instead of a large so you can enjoy a taste at each place!
The Eastern Ice Cream Trail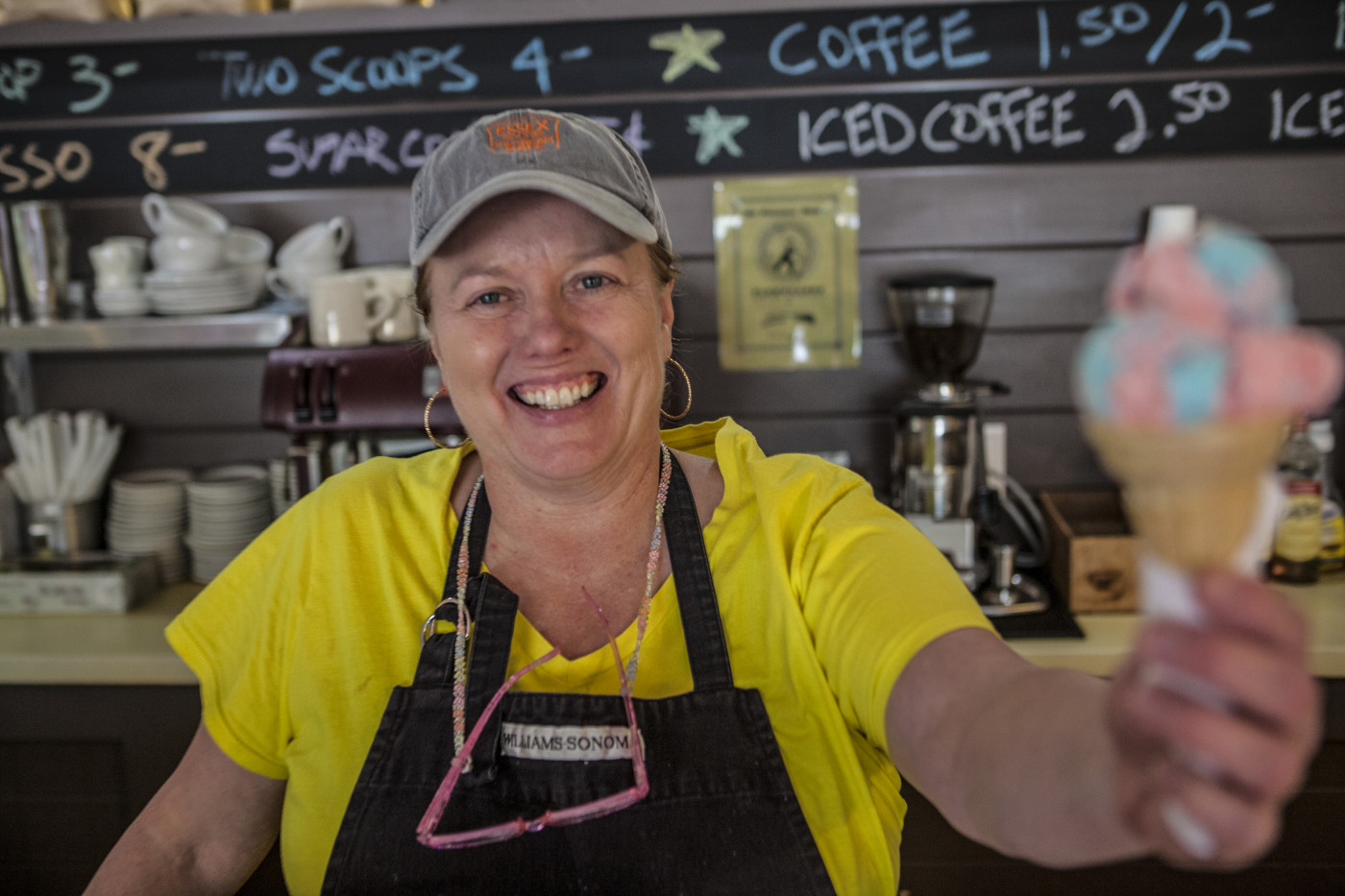 The first stop on the Eastern Ice Cream Trail is the Adirondack General Store in Schroon Lake. An interesting and eclectic destination by itself, this stop features homemade ice cream sandwiches! Who said ice cream had to come on a cone? If you're in need of a more substantial snack, they also serve homemade meals, delicious soups, and other baked treats.
Next, turn the car east toward the very edge of the Adirondacks and make a stop at The Wind-Chill Factory in historic Ticonderoga. Since opening in 1996, this local business has grown their offerings from basic soft serve flavors, some frozen yogurt, and a few menu items to a full grill menu, pizzas, and, most importantly, tons of rotating soft serve ice cream flavors! They also have candy-packed flurries and a mouthwatering list of specialty sundaes. If you're up for a challenge, order the banana split—it's big enough to be a meal of its own!
Continue up the eastern border of the Adirondacks to the last stop on the Eastern Ice Cream Trail to the Essex Ice Cream Café. Gaze across Lake Champlain at Vermont as you enjoy a cone, bowl, or delicious specialty shake like the Extreme Shake with Espresso. The Essex Ice Cream Café has been around for decades, and has also served as a gas station, general store, and restaurant! Needless to say, it has become a staple of the small Adirondack Hamlet and will make for a fantastic finale to your journey.
The Southern Ice Cream Trail
If you're approaching the Adirondacks from the south, hop on the Southern Ice Cream Trail. Riding up Route 30, you will pass through a series of quaint Adirondack towns, each with their own classic ice cream stand. With so many great locations to choose from, this trail ends up being a bit longer than the rest—but more ice cream can only be a good thing, right?
This marathon of ice cream begins at Northern Lights Creamery in Inlet. In addition to ice cream, Northern Lights makes homemade gelato daily, so you know your frozen treat is as fresh as it gets. Located on the main drag, they are also right next to Arrowhead Park, which includes a recreation area and public beach. Grab your cone or dish to go, take a walk, and enjoy the timeless charm of Inlet and the stunning views of Fourth Lake.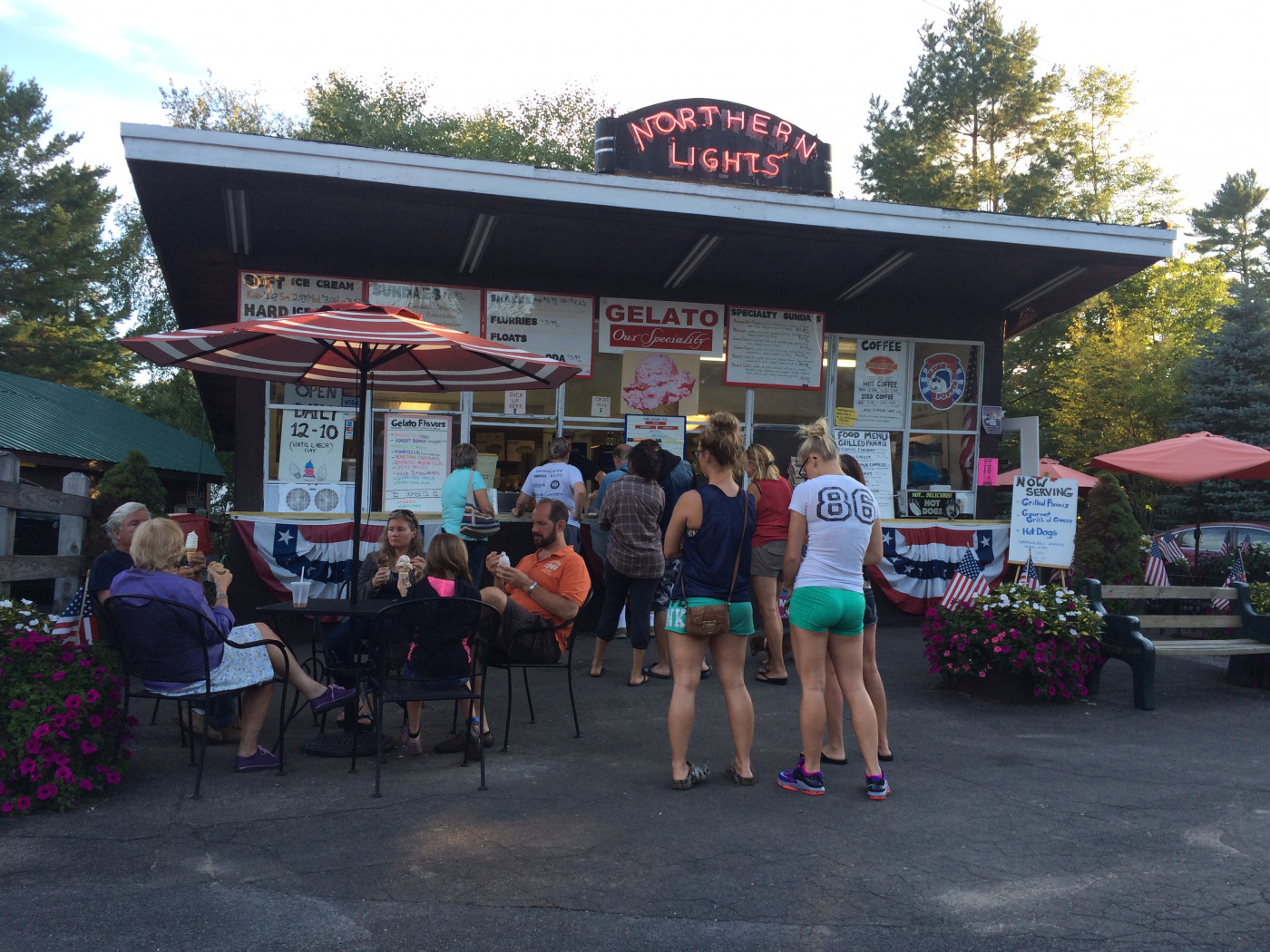 Your next stop will be The Park, across from Hoss's Country Corner in Long Lake. A quintessentially Adirondack ice cream stand, they have a great selection of hard ice creams, a wide selection of sandwiches and grill snacks, and even a nice coffee counter. After you enjoy a cone, walk across the street and check out the 40-year-old general store, stocked with everything you need for an Adirondack adventure.
Continue along Route 30 to Tupper Lake, when you see a giant red Adirondack chair, pull over! You have arrived at Skyline Ice Cream. Known for their delicious soft serve twists, which come in a variety of flavors, Skyline has been a Tupper Lake landmark since 1985. With tons of outdoor seating and a lawn filled with fun cartoon cut outs, this is the perfect place to bring the family on a beautiful summer day.
Your journey on Route 30 continues as you head to The Cone Cabin in Lake Clear. New to town, The Cone Cabin has only been in business for a few years. That said, it has taken no time for them to gain a faithful following. If you're in need of some real food, scarf down one of their delicious burgers or Michigan dogs and hand cut fries before you order your cone. With a specialty flavor each week, you never know what tasty treat is in store for you! They also make adorable doggy sundaes for your canine companions.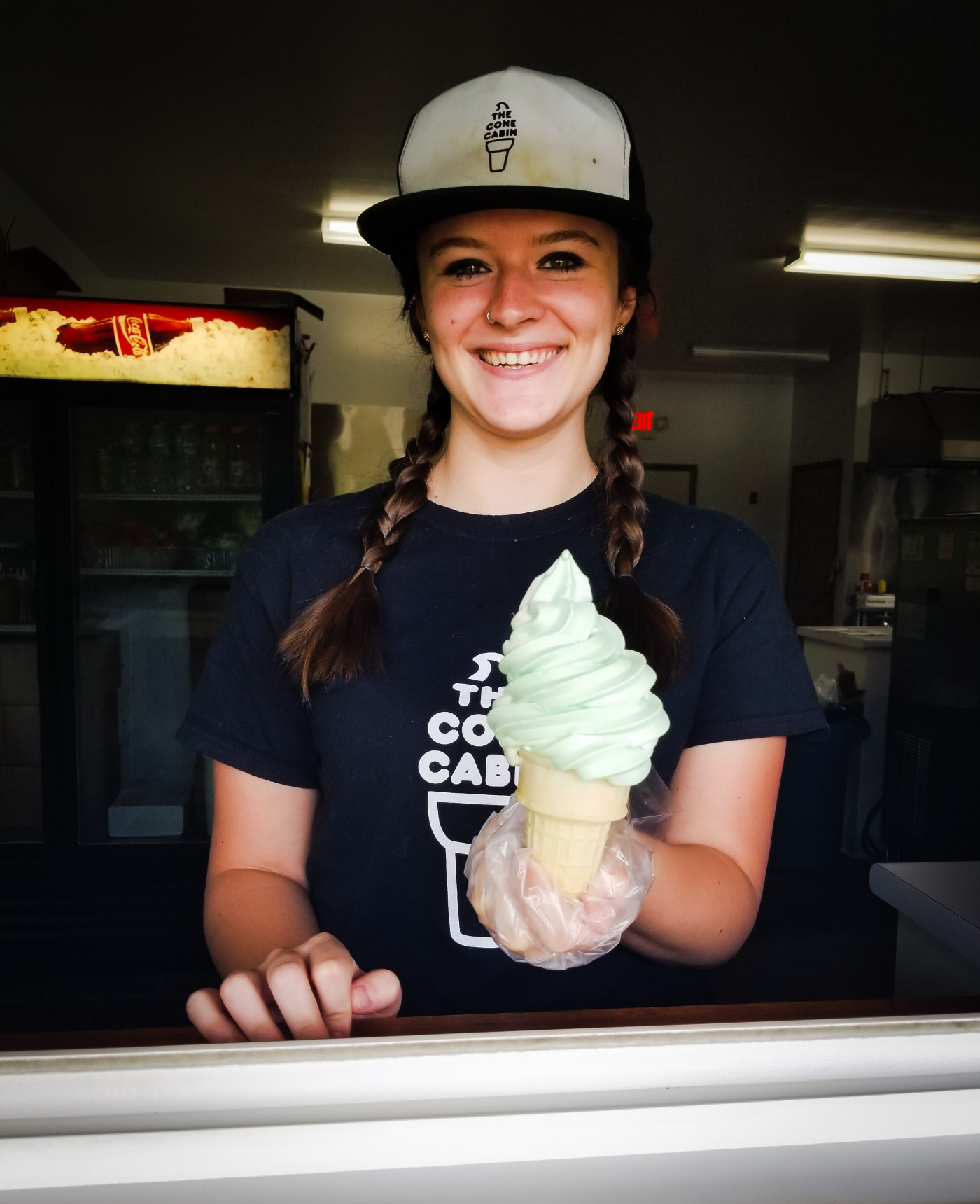 The Northern Ice Cream Trail
The North Country certainly knows how to do ice cream right. This trail will bring you to some of the most unique ice cream spots in the Adirondacks. Your trip will start in Malone at Bokie's Drive In. A classic 1950s full service drive-in diner, Bokie's makes their own homemade hard ice creams, and they get creative with the flavors. Think Banana Brulee and Egg Nog Crunch. Like most 50s-inspired diners, they also make a mean milkshake.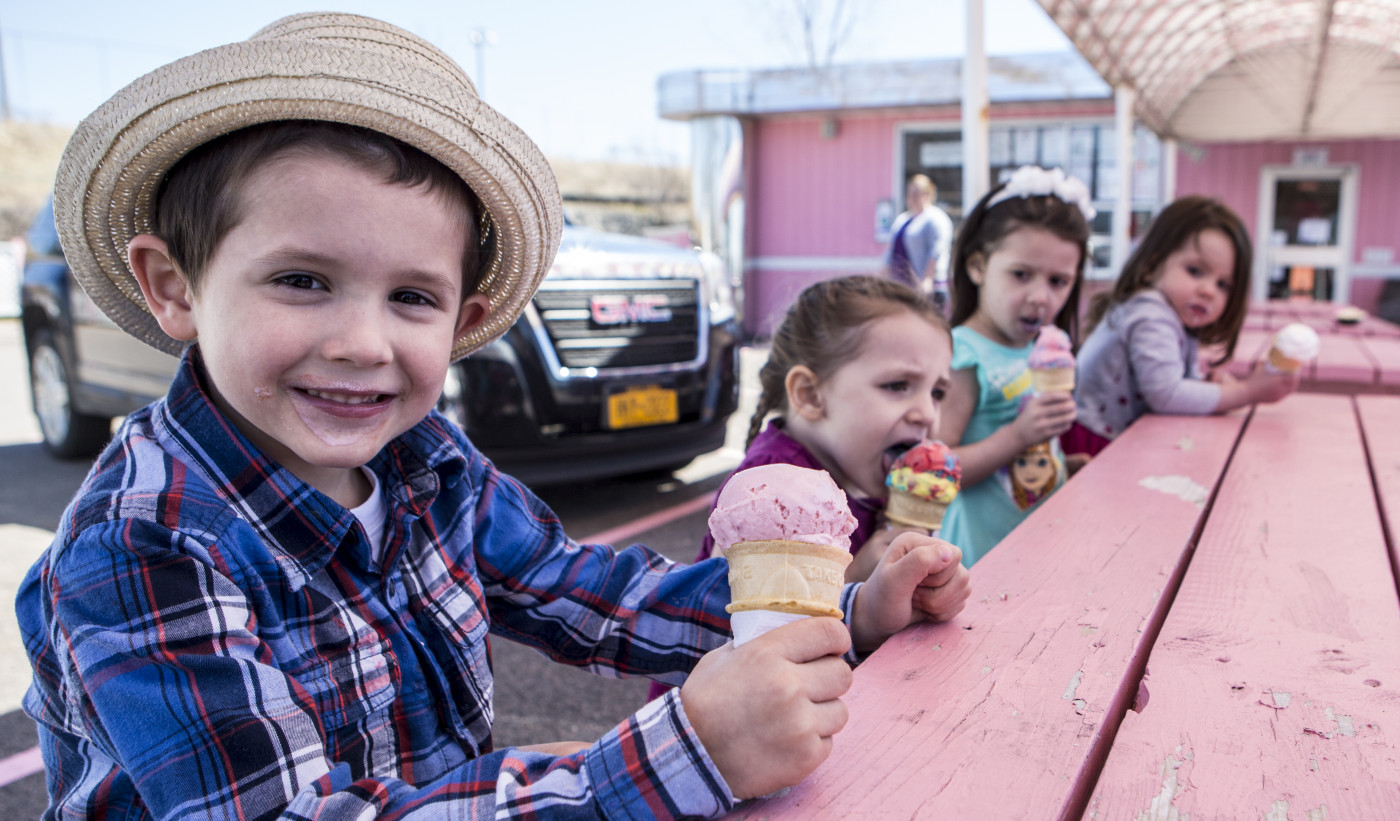 Drive south on Route 30 toward Saranac Lake and you will come to Donnelly's Ice Cream. This place is legendary. Open since 1953, not much has changed at Donnelly's, because nobody would ever change something this good! They serve one flavor a day, twisted with vanilla, and follow the same general flavor schedule each year. Due to their incredible popularity and very small establishment, there can sometimes be a line. Luckily, they also have one of the most incredible views of any ice cream stand I've ever visited. Don't be ashamed to get back in line for seconds, either. We've all done it.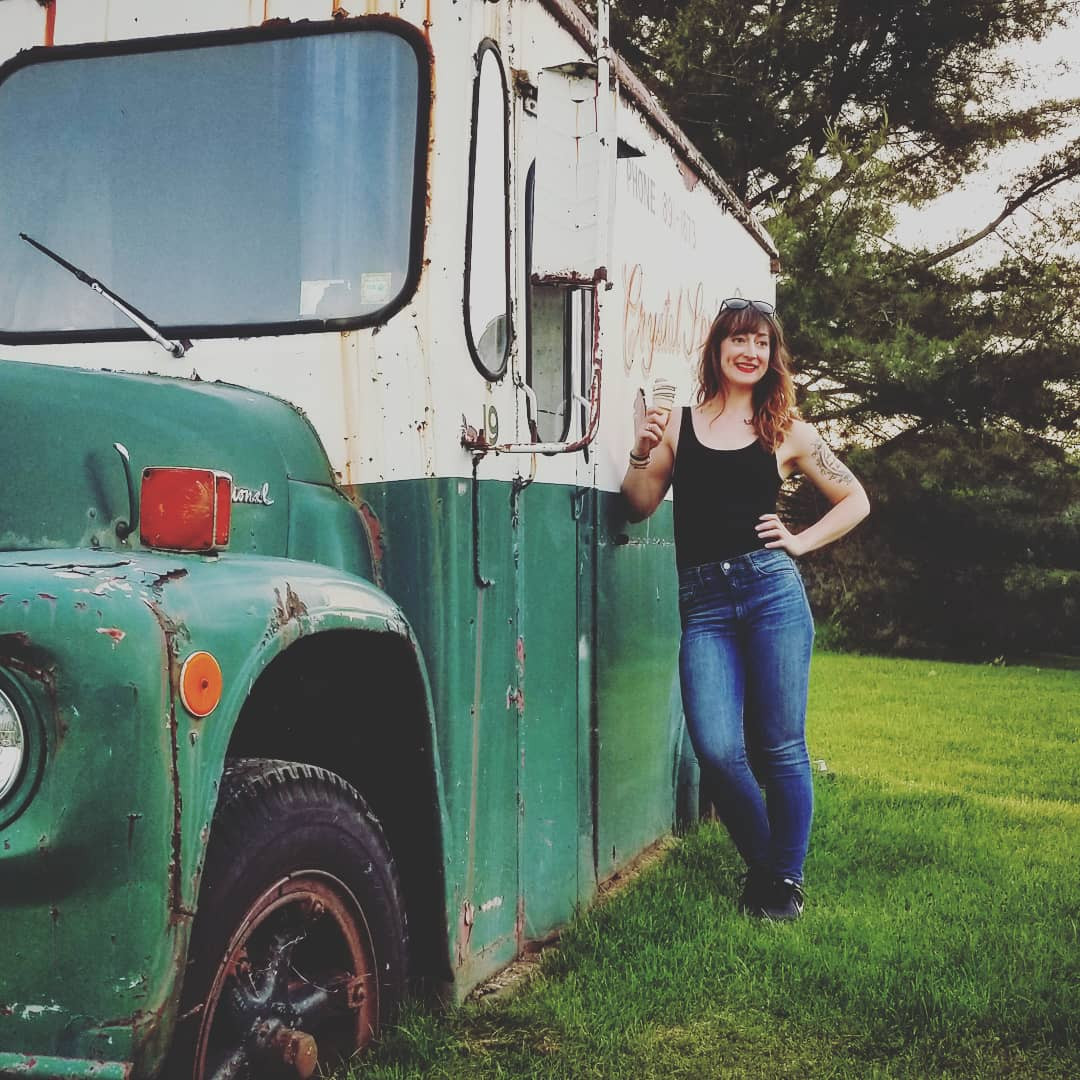 If you're able to peel yourself away from Donnelly's, make a final stop at Mountain Mist Custard in Saranac Lake. Located on the banks of Lake Flower, you can order your ice cream and then enjoy it from an Adirondack chair on the lake's edge. Doubling as a marina, don't be surprised if you see people boating right up, either! This is one of my favorite spots to get a sundae. They have a variety of topping options and give you a more-than-healthy serving for a great value.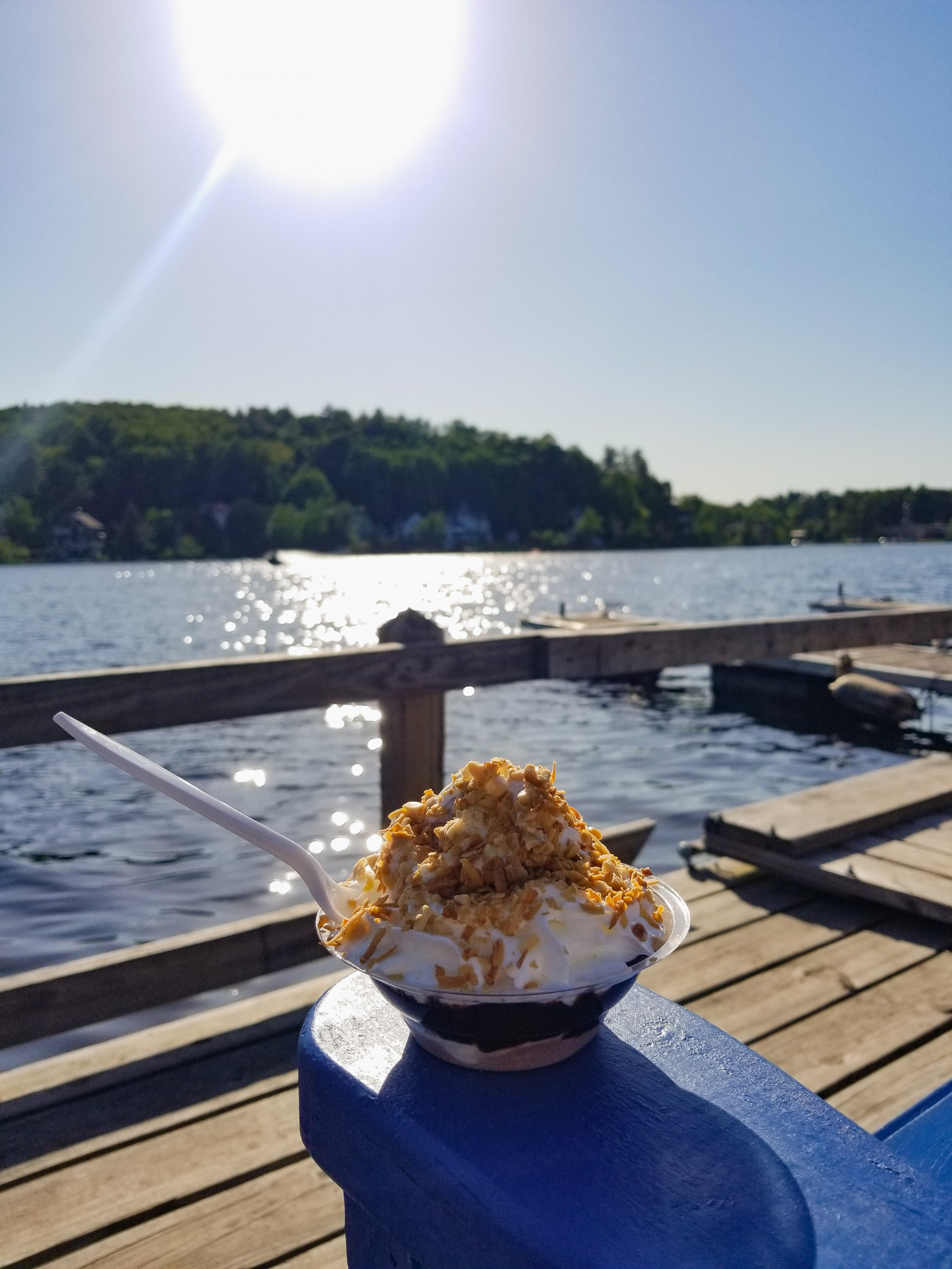 The High Peaks Trail
The final Adirondack Ice Cream Trail will take you through the High Peaks region, giving you plenty of opportunities to follow pro tip number 2—work up an appetite. This trail starts at the base of Whiteface Mountain in Wilmington at the Whitebrook Dairy Bar. Celebrating 50 years this summer, they have spent five decades perfecting their offerings. Serving a variety of grilled and fried foods as well as frozen treats, everything about them screams "summer vacation."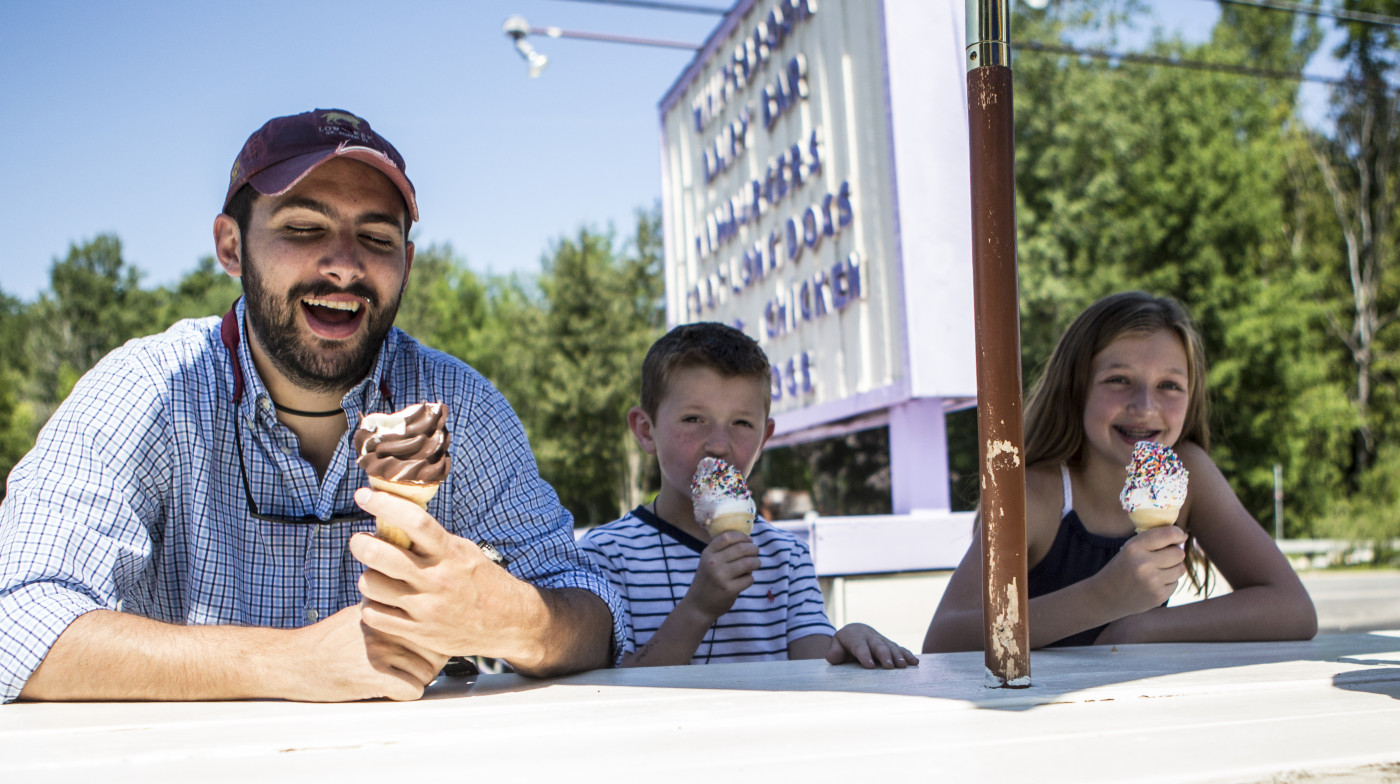 Next, stroll down bustling Main Street in Lake Placid to Emma's Lake Placid Creamery. This 50s-themed ice cream parlor (what was it about ice cream in the 50s?) serves soft and hard cones, sundaes, old fashion milkshakes, and homemade ice cream cookies. But the crème de la crème (see what I did there?) is their famous Maple Crème soft serve. The Adirondacks has never tasted so good!
Conclude your High Peaks Ice Cream trail at the Pine Cone in Raybrook. Their selection is fairly standard, offering both hard and soft options—but their servings are enormous! Never in my life did I think I would throw away ice cream. Props to anyone who can finish a large!