In the late 1800s, the Adirondack region became a place where wealthy city dwellers escaped to for a reprieve from busy city life. While these people deeply valued the restorative qualities of nature, and found great pleasure in various forms of outdoor recreation, they didn't want to sacrifice their own comfort or the comfort of their guests. Therefore, the wealthiest among these recreators built lavish, sprawling complexes to house themselves, their distinguished visitors, and their personal staff. Built in distinctive, rustic styles, a number of these camps stood apart from the rest as more grandiose. Today, these are known as the Adirondack Great Camps. While the years have not been kind to them all, many still stand today thanks to skilled preservation and restoration efforts.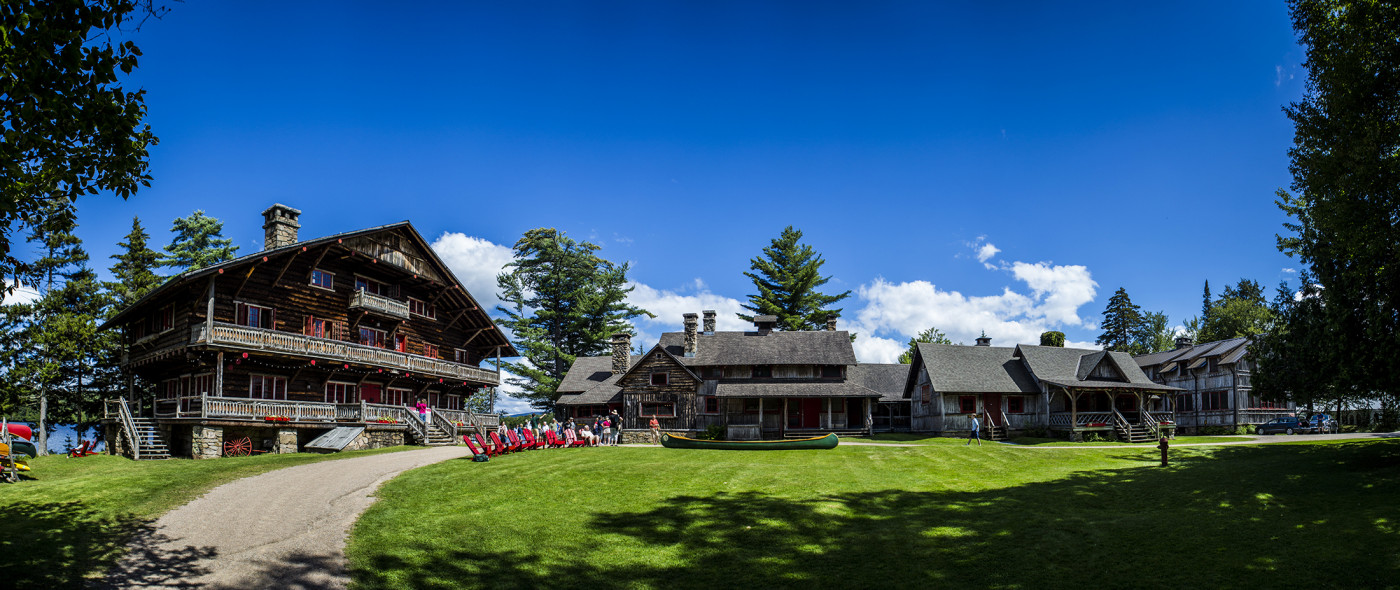 Located on Sagamore Lake, just miles from Raquette Lake, Great Camp Sagamore is the quintessential Adirondack Great Camp. Built in 1897 by famed Great Camp designer William West Durant on 1,526 acres of wild lands, it was originally intended to be his own lavish private residence. However, failing finances forced him to sell his precious creation almost immediately. The comfortable, intimate complex was bought by Alfred G. Vanderbilt, an avid sportsman, who purchased the property as a recreation and entertainment retreat. He expanded upon it significantly, adding additional guest and servant quarters, more dining space, a hunting camp at the end of the lake, and a variety of recreation facilities.
While Vanderbilt's first wife was unenthusiastic about the parcel, his second wife, Margaret Emerson, was an avid sportswoman and hostess herself. After years of little use, the two recommenced expanding the facilities with renewed vigor until Vanderbilt's death in 1915. Emerson kept the flame of the Sagamore alive in the face of her husband's death, and continued to build both the camp's size and fame throughout the '20s and '30s. However, structural blows and declining interest forced her to abandon the property in 1954.
Emerson gifted Great Camp Sagamore to Syracuse University, who used the facilities for educational programs for the next 20 years. When the costs of restoration and upkeep became too high, Syracuse University sold the property to New York state as Forever Wild land, which required all buildings be destroyed. The Preservation League of New York State stepped in and the camp was bought instead by Barbara Glaser and Howard Kirschenbaum, who founded the Sagamore Institute of the Adirondacks in 1975. The organization has preserved a majority of the original structures and continues to host public visitors, seminars, and events. Daily tours are available from June through October.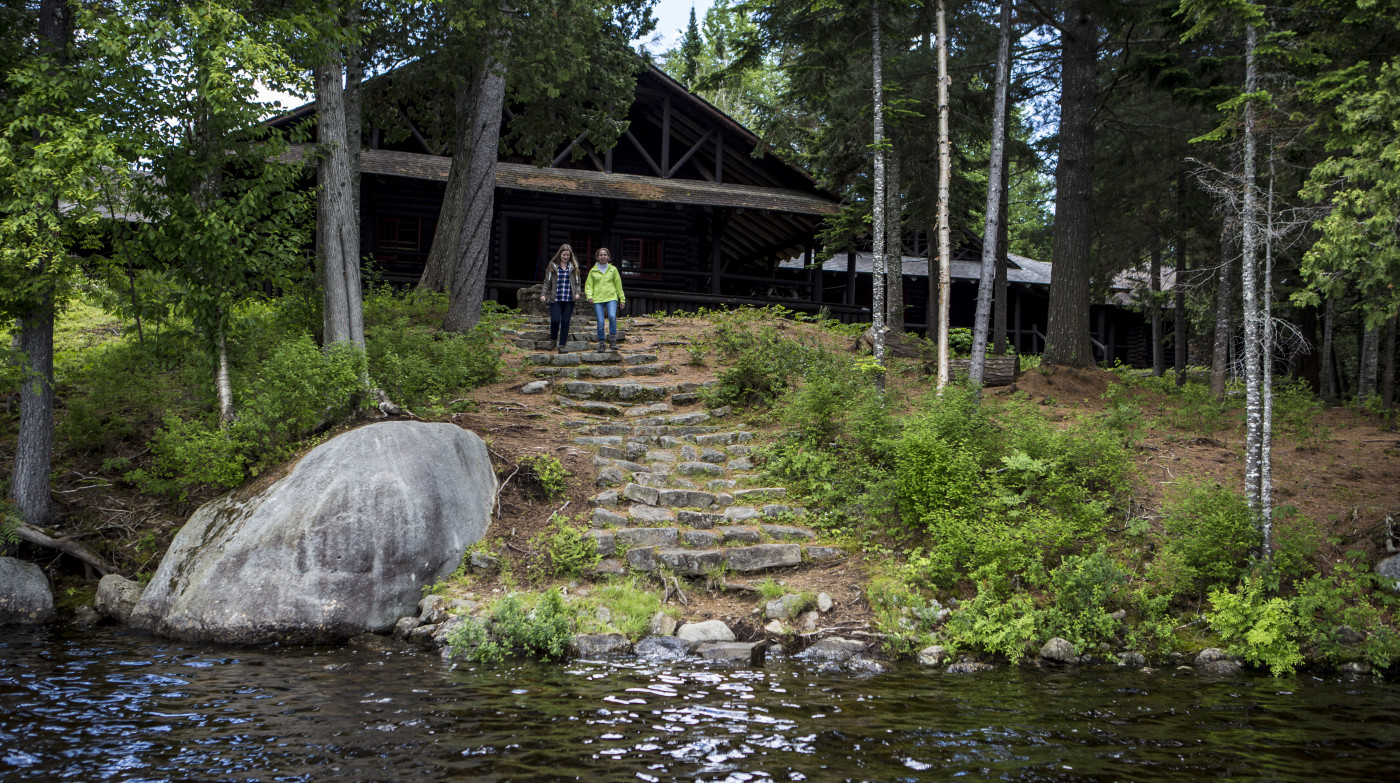 Camp Santanoni was constructed in the late 19th and early 20th centuries as a luxury wilderness retreat for Roberty C. Pruyn, a successful banker and businessman, and his wife, Anna. One of the largest of the Adirondack Great Camps, the original Camp spanned 12,900 acres and consisted of three groups of buildings – the Gate Lodge Complex, The Farm Complex, and the Great Camp Complex. All areas were connected by a five-mile-long carriage road.
Constructed almost entirely using onsite materials, the sprawling main camp is perfectly suited to its wild surroundings. Completely self-sustaining, Camp Santanoni was the perfect place for the Pruyns and their A-list guests, which included Theodore Roosevelt, to retreat to. Beautiful views of Newcomb Lake and the nearby Santanoni Mountain Range could be enjoyed from full-length covered porches, and a large boathouse made water recreation easy.
Significant efforts have gone into preserving this historic Great Camp, and many of the original buildings still stand today. The grounds are completely open to the public and can be accessed by hikers, bikers, horseback riders, or even by carriage upon request. Visitors can explore the buildings and appreciate the original or artfully restored architecture, and take advantage of the same rustic shoreline the Pruyns and their guests once enjoyed.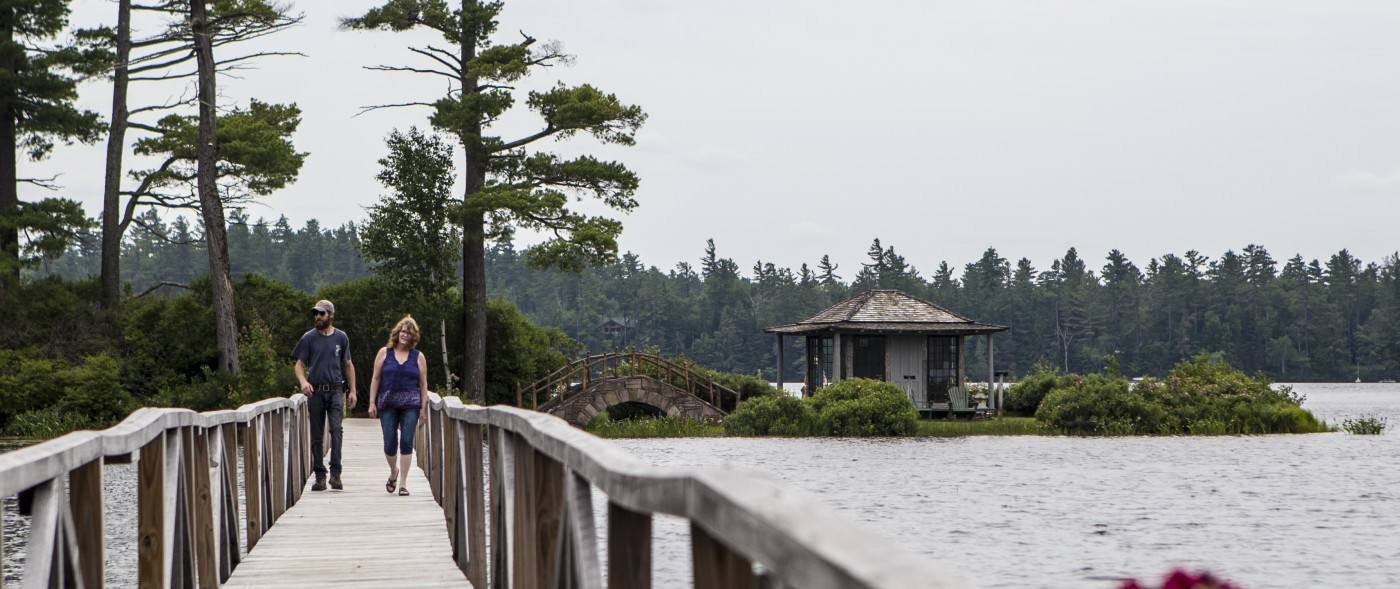 White Pine Camp on Osgood Pond is one of the few Adirondack Great Camps still used for lodging and recreation today. Carefully restored over the years, guests can still find peace and relaxation in a place that was once the "Summer White House" of President Calvin Coolidge. Originally purchased in 1907 by Archibald S. White, a wealthy banker, and his eccentric socialite wife, Olive, the Camp was built by William Massarene in 1908. The rustically elegant compound features soaring rooflines, Adirondack-inspired interiors, a lakeside bowling alley, and a picturesque boardwalk out to its iconic Japanese tea house. More modern in style than other Adirondack Great Camps, the compound continues to fascinate architectural enthusiasts to this day.
The camp had many owners over the years who brought a parade of influential guests to the region. In addition to President Coolidge, Herbert Hoover also visited while serving as Secretary of Commerce. From 1948 to 1983, the camp was used by Paul Smith's College for summer programs, student dormitories, classrooms, and staff quarters. In 1997, the property was parceled into shares. Today, nearly 40 owners live at and visit White Pine Camp. They work together to preserve the camp and educate visitors on its historical importance. The facilities are also open to the public on a rental basis.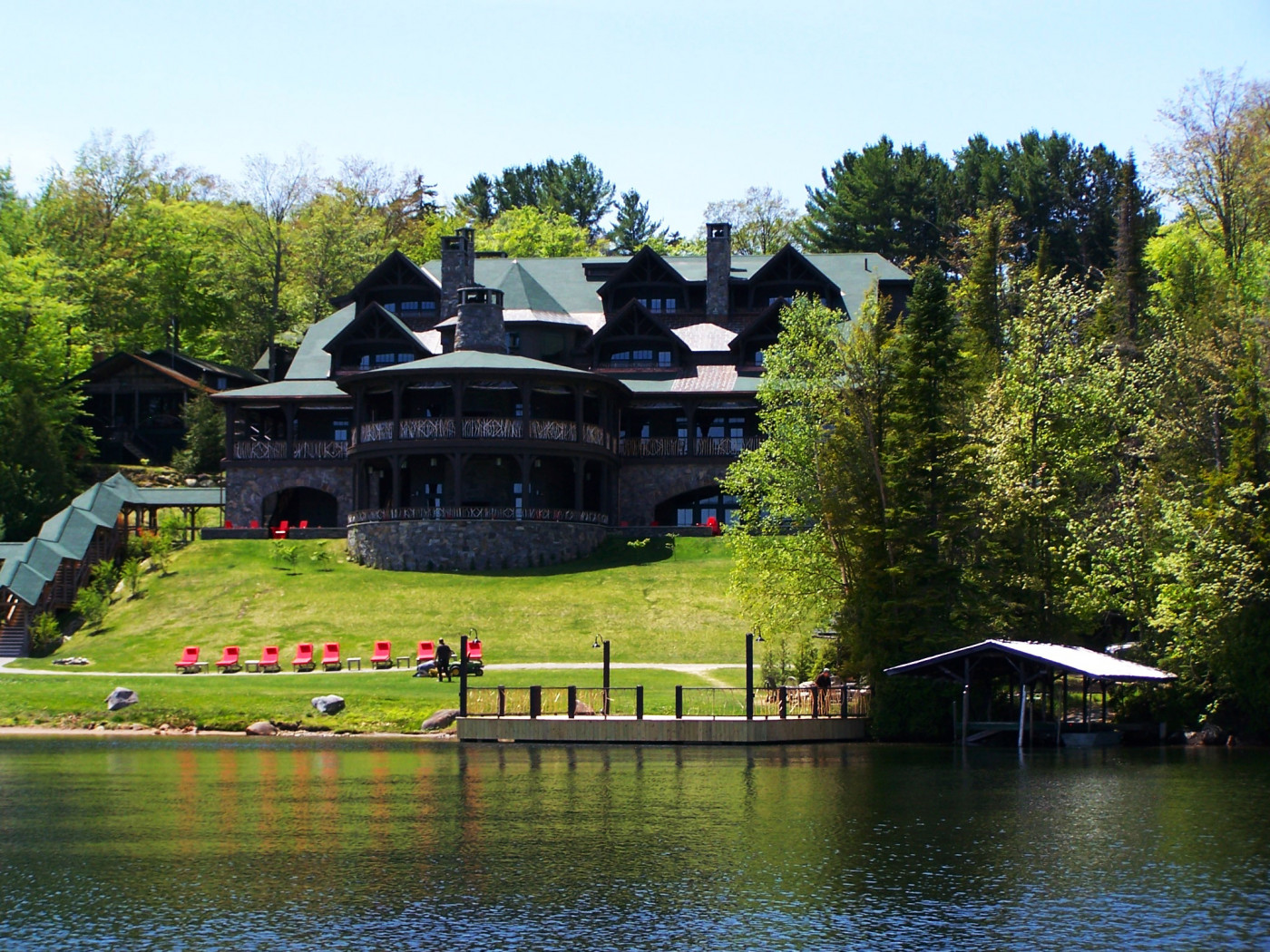 Though not technically classified as an Adirondack Great Camp, the Lake Placid Lodge boasts all the same grandeur as the historic Camps. Originally built in 1882 by a wealthy German family, the camp's twig framed porches and stone masonry were consistent with many great camp constructions. In 1946, the property was sold by its private owners and reopened as one of the premier hotels in Lake Placid. Over the years, the buildings were resorted, transformed, destroyed in fires, and rebuilt again.
The only luxury lodge on Lake Placid, the current Lake Placid Lodge consists of 17 guest cabins and thirteen suites. Its exquisite stone porch provides uninterrupted views of the lake and Whiteface Mountain in the distance. From indoor and outdoor fireplaces to handmade furniture and regionally-inspired fine cuisine, everything about the lodge combines to create a luxury experience with a warm, rustic atmosphere.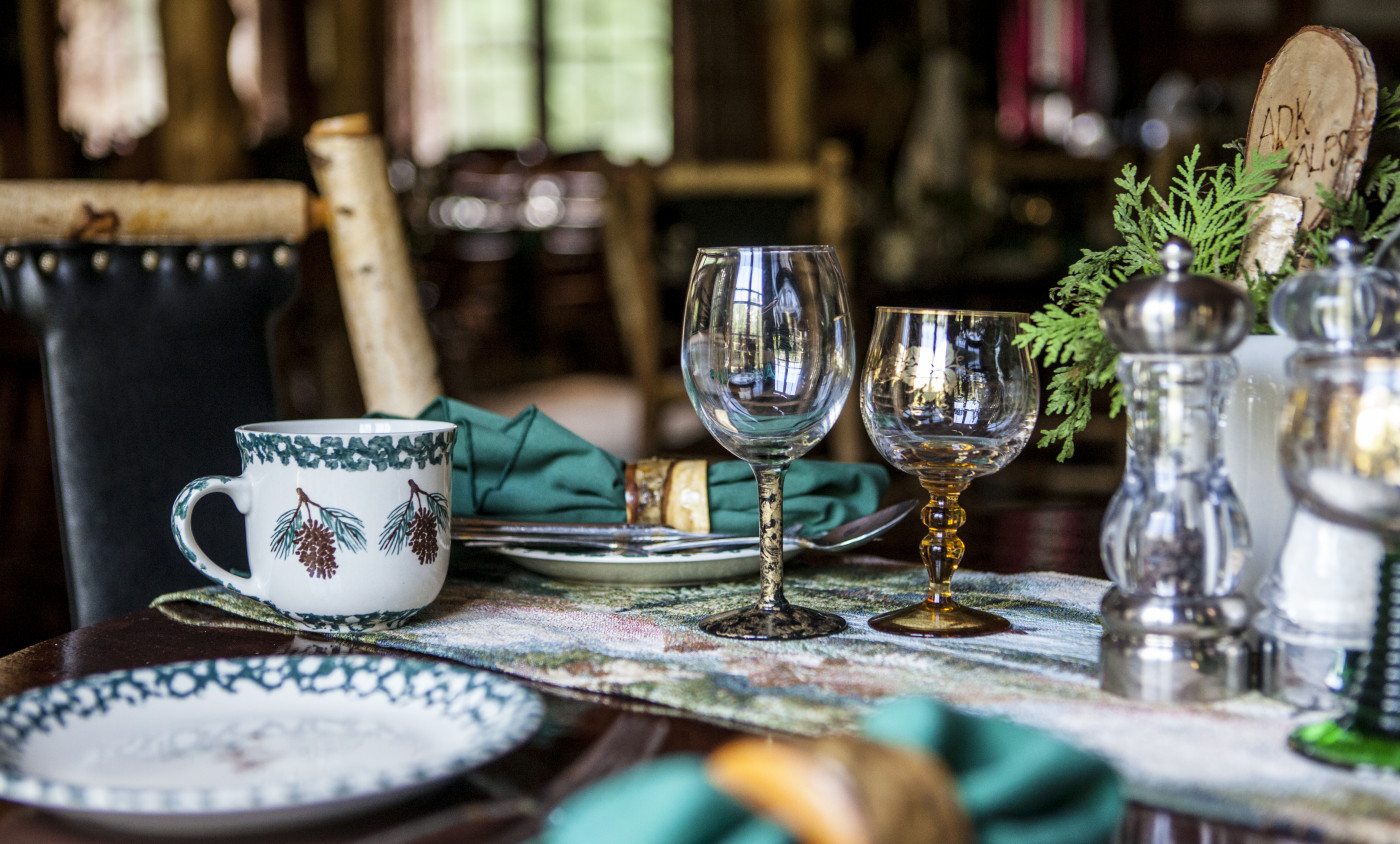 Another classic Adirondack lodging that didn't make the Great Camp list is the Lake Clear Lodge and Retreat. Built in a very similar format as the historic Great Camps, the property consists of a number of small cottages, a main lodge, a restaurant, and gardens nestled among 25 acres along the shores of Lake Clear. Visitors can book stays in the main lodge, artisan chalets, or lakeside cabins. In addition to a refreshing retreat, the lodge also offers a variety of special programs and classes with themes ranging from natural foods and general wellness to beer brewing and pairings. You don't have to stay to experience the lodge either – their restaurant is open to the public and many of their onsite events are open to day visitors.
Other great camps in the Adirondacks include Great Camp Pine Knot and Echo Camp on Raquette Lake, Great Camp Uncas on Lake Mohegan, Prospect Point, Moss Ledge, and Camp Eagle Island on Upper Saranac Lake, Flat Rock Camp on Lake Champlain, and camps Topridge and Wild Air on Upper St. Regis Lake. All were added to the National Register by 1987, and some are considered National Historic Sites. Despite the huge size and age of these properties, most are well-maintained and preserved by either private organizations or partnerships between local governments and historical societies. While few are open for public tours, stunning glimpses can be caught from the water as you paddle their respective lakes.
The Adirondack Great Camps of today are a mere reminder of the Gilded Age gone by. They serve not only as a warm reminder of the region's history, but also as inspiration to architects and private home owners of today. Whether you take a tour of a public Great Camp, or merely catch a glimpse of a private one as you paddle or drive by, you are sure to be amazed at the grandeur and opulence that was once enjoyed by the wealthiest of the Adirondacks' visitors.