I'm almost ashamed to admit it, but I lived in the Adirondacks for more than five years and never once got on a snowmobile. To make matters worse, I could even hear them from my apartment in Saranac Lake, heading up the railroad tracks, out toward Lake Clear and into some of the most beautiful and extensive networks of trails in the state. They were right in my backyard. And still, I never checked it out.
I'm sure the whole winter malaise thing played a part. But really, I just felt intimidated. I didn't know how or where to start. It always seemed like some kind of exclusive club, like you needed a sponsor to get into it, and who would want to sponsor a newbie like me, who would just slow them down?
Of course, that couldn't be further from the truth. People who snowmobile know how fun and addictive it is want to share that with you, and the learning curve isn't necessarily as steep as you might think.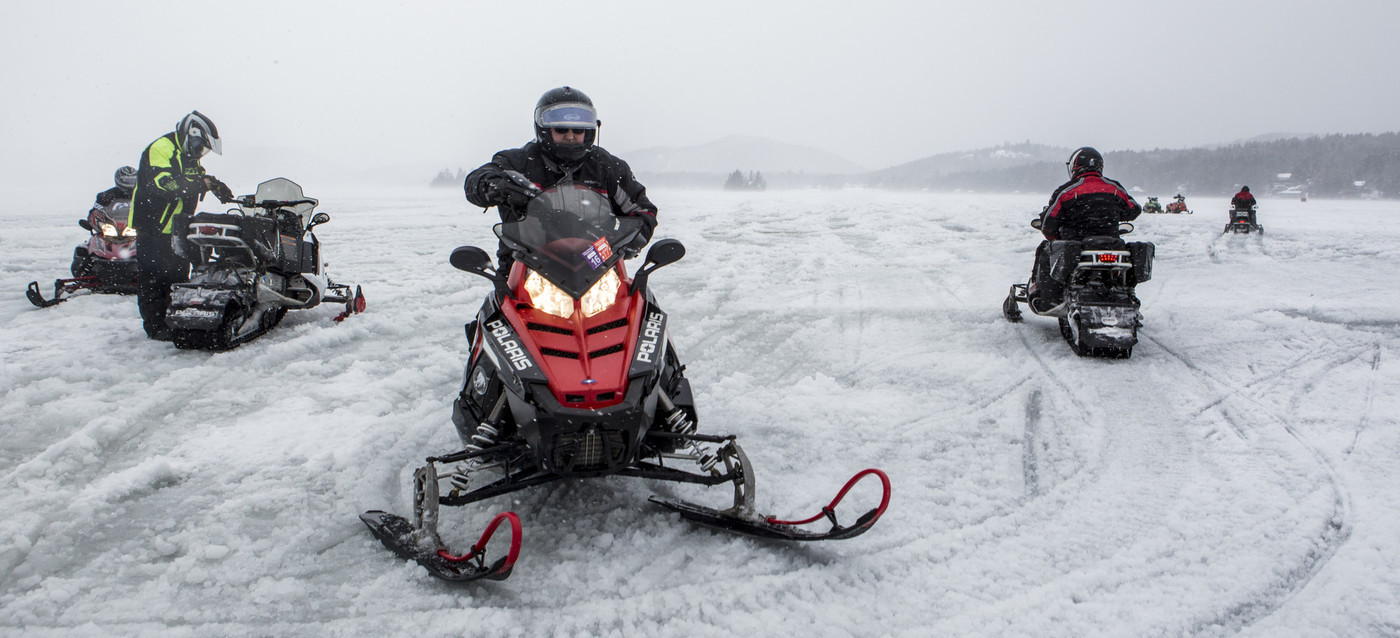 "I mean, it's really only gas and brake," says Gary Bishop, owner of Adirondack Snowmobiles in Lake Placid. "Gas is the throttle under your right thumb, and you brake with your left hand like you're riding a bike."
Most of the people Bishop and his guides take out are beginners, he says, and the first thing you need to know has nothing to do with the machine itself. It's all about keeping warm. Some people show up for a tour in what they'd walk around town in, he says — not too often, but it happens — and while he has some extra boots and things he can loan, if you're not dressed appropriately, you're not going out.
The key, as always, is dressing in layers, starting with a moisture-wicking base thermal set, and adding layers of increasing thickness. Leave the cotton at home and opt for wool and fleece, snow pants, and a heavy windproof jacket. Hands and feet get the coldest, Bishop says, so you want to come with the best winter boots with the lowest temperature rating you can find, and don't be fooled by the fact that most snowmobiles today come equipped with handlebar warmers. You still want the warmest gloves or mittens you can get.
Now, for the first-timer, maybe it's not quite as easy as gas and brake. But that's where having a guide helps. He or she will put you on the machine, show you all the safety features, and then start you out nice and easy so you can not only get a feel for the power under you, but gain a little respect for it as well. After practicing some turns, which is the trickiest aspect of riding, they'll take you out for about an hour and half.
Naturally, speed is part of the thrill of the sport, but Bishop encourages beginners to resist the urge to go faster in order to catch up with people ahead of them. His tours have a guide in front, one in the middle and one in back, so you won't get left behind, he jokes, and there's really no need to open the thing up full bore.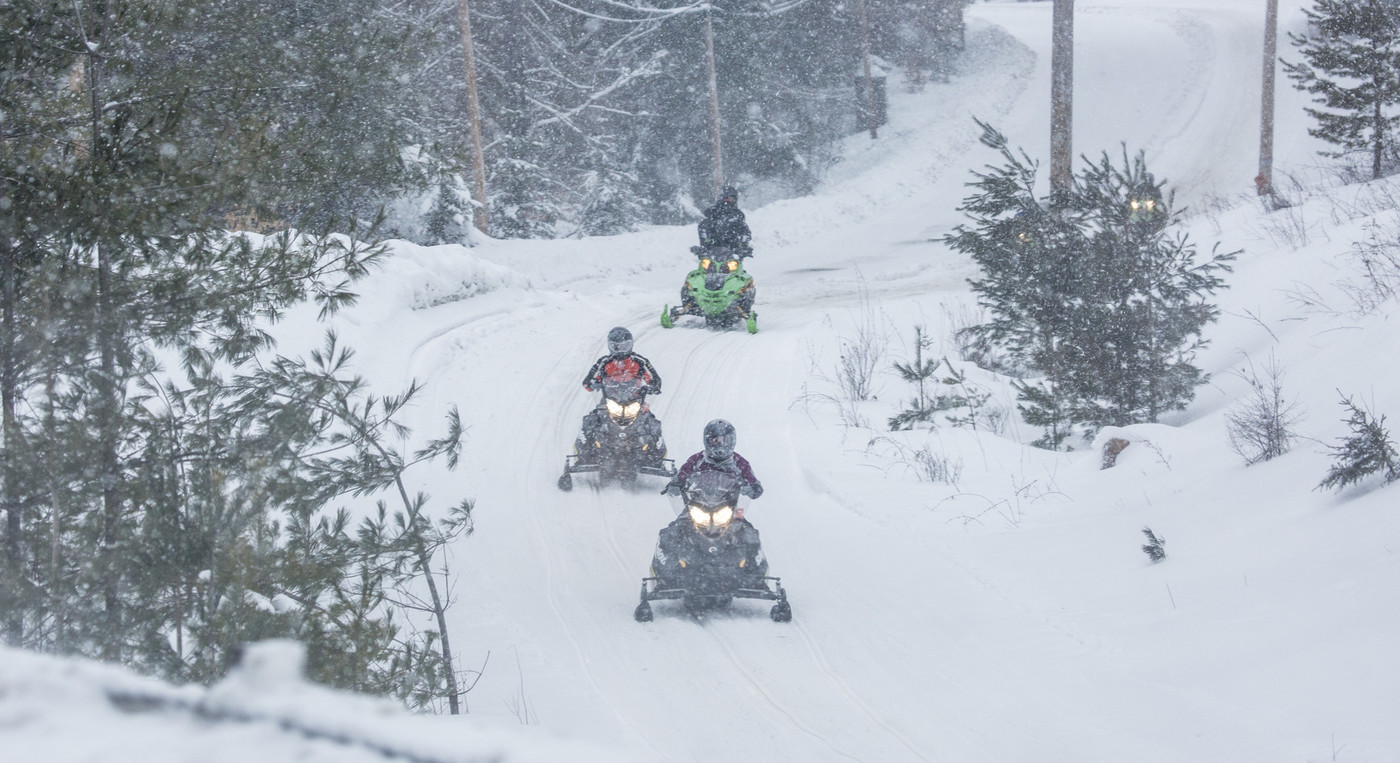 Twenty-five to 30 miles per hour is about as fast as the needle's likely to get your first time out, and that'll only be on the straightest of straightaways. Heck, my sister's been snowmobiling for 15 years, and she says that's about as fast as she ever goes to this day. And that's plenty fast, when you think about it. You can get to some beautiful and remote parts of the wilderness in pretty short order at that speed, and that's where a great deal of the appeal lies.
It's not about zooming around all the time. It's about getting to places you couldn't see by any other means, really, and enjoying the company of your friends and the people you meet along the way when you take a break.
"As long as you're dressed well, you're not going to get tired or over-exert yourself, and you've got a motor under you," Bishop says. "You can go practically anywhere — there are restaurants and taverns on the trails for you to stop and eat and get a cup of coffee — and you can see a lot terrain, a lot of wildlife, and put some miles behind you."
After you've gotten a taste from a guide, you're going to want to tackle more trails, and Bishop says the first thing you should do is line up a partner to go with you. In fact, if you're renting a snowmobile from him, he won't let just one go, you have to have a buddy. And always be sure to check the conditions of the trails you're aiming to hit to make sure they're in good riding order.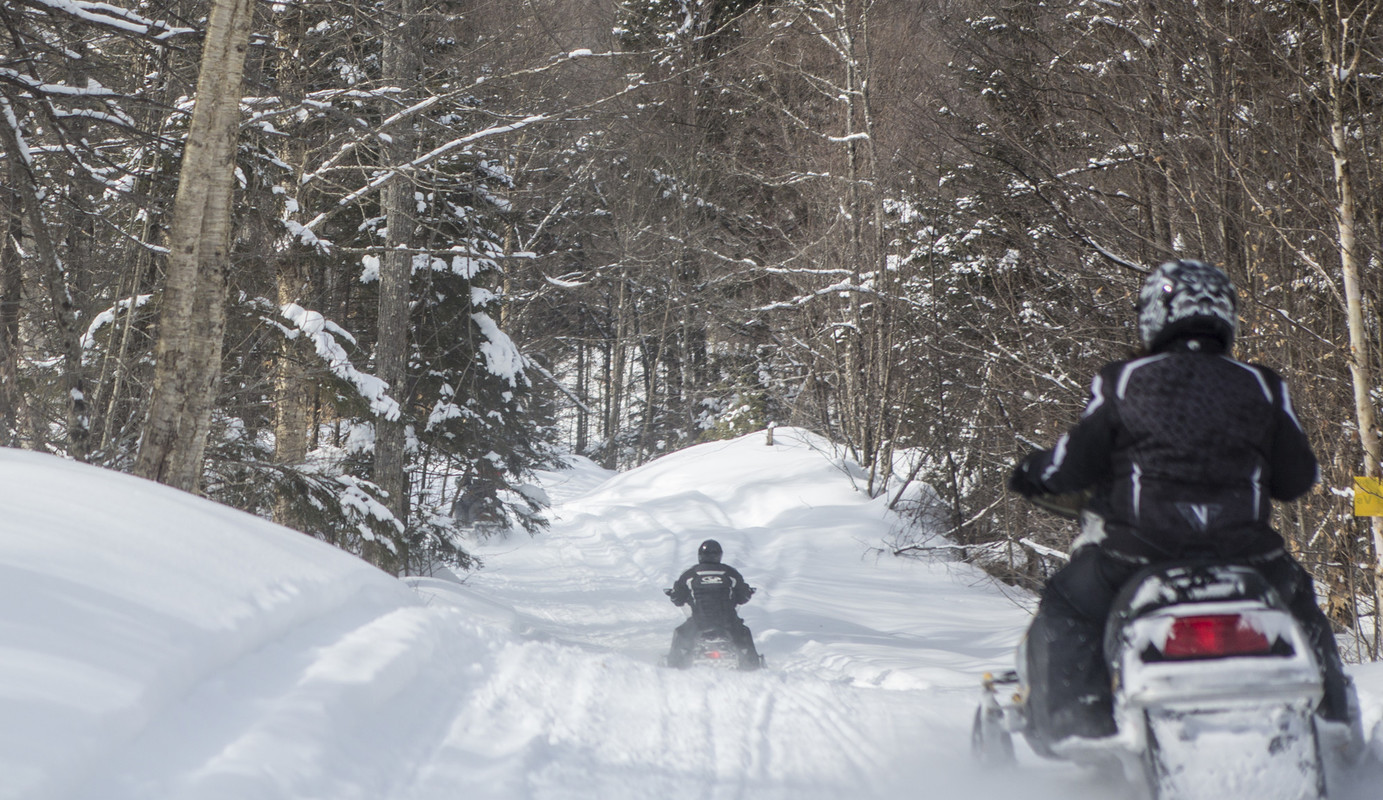 But, where should you go?
My sister — the one who doesn't go faster than 30 — has Tupper Lake on her bucket list because every time she comes up for the ice fishing derby there the first weekend in February the trails beckon, and she wishes she was there for sledding instead of fishing. She lives not too far south of the Adirondacks, and despite the proximity, she says there's really no comparison. 
"The trails always look amazing," she says. "It's just better snow, and they know how to groom. They know what they're doing up there."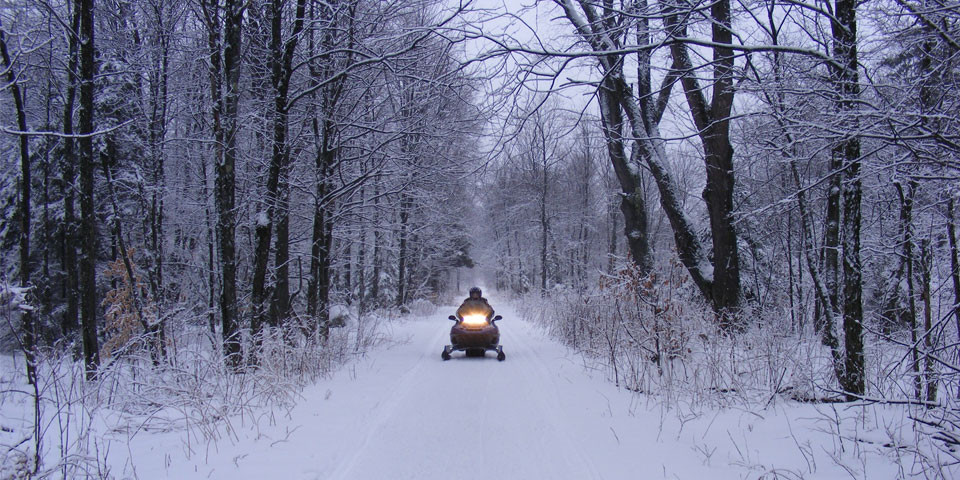 That's true, of course, and Tupper Lake is a fine entry point into northern NY's vast network of trails, which can take you through some of the most wild terrain the Adirondacks have to offer. Then again, so is Saranac Lake, where I'd hear those sleds from my apartment. Or Lake Clear. Or Gabriels. Or St. Regis Falls. Or Malone, for that matter.
The point is, no matter where or how you get on them, these are the kinds of trails you won't want to leave, unless it's to stop and grab a bite at one of those joints along the way.

For more first-time riding tips, first-hand accounts from the area's other tour provider, Farmhouse Snowmobiling, and some recommendations on where to stop while you're out, check out these posts and get riding:
Top 7 Reasons Not To Sled In Speculator
See you on the trails!