This page was originally created for the launch of the reservation system in 2021. Updates have been made to reflect the 2022 season.
---
It's no secret that hiking is a popular activity in the Lake Placid region. The allure of wild lands beyond the communities is irresistible to many, and this has become increasingly noticeable with the uptick in hikers seen around the entire Adirondacks. To help lessen impacts, land managers are responsible for protecting natural resources, as well as managing visitors to these wild places
On May 1, 2022, the Adirondack Mountain Reserve (AMR) and the Department of Environmental Conservation (DEC) will continue the reservation program to practice visitor management based on available parking at the privately owned Adirondack Mountain Reserve. (This parking is also referred to as the Saint Huberts parking and it is here that all hikes leaving from Lake Road begin.) The AMR is a privately owned 7,000-acre land parcel located in the Town of Keene Valley that allows for limited public access through a conservation easement agreement with DEC.
The system will be still managed adaptively; the ultimate goal is to improve safety issues centered around general congestion and parking along the Route 73 corridor. In recent years pedestrian traffic, illegal parking, and roadside stopping along Route 73 have created a dangerous environment for hikers and motorists alike. This system will also help trip planning, ensuring that you will have a spot upon arrival.
Reservations can be made two-weeks in advance. The first reservations can be made April 17, 2022.
The details
This is a no-cost, FREE reservation system designed to protect public safety at this heavily traveled location and study impacts to resources based on visitation. The entire Route 73 corridor that winds from Lake Placid through North Hudson can be congested during peak summer months, but this program is only in effect for the parking at the AMR. It is not for the entire Adirondacks or entire High Peaks region. The reservation system will only run from May 1 to October 31. Reservations can be made a maximum of two weeks in advance. The first reservation can be made starting April 17. Reservations will be required for day-use and overnight parking. Walk-ins without a reservation will not be permitted.
There are no new changes for 2022, but changes implemented in 2021 during the season will be used through this new year. The automatic one-way gate to allow for later departures and email reminders of reservations will continue.
Who does this program apply to?
The pilot reservation system applies to visitors using the AMR lot arriving by car, bicycle, or on foot.
If you are using a trailhead off Lake Road or a trailhead that is accessed through AMR lands, you need a reservation. The following hikes are included on that list:
Indian Head/ Fish Hawk Cliffs
Rainbow Falls
Beaver Meadow Falls
Noonmark Mountain
Round Mountain
Colvin
Blake
Dial 
Nippletop
Sawteeth
Pyramid Peak
In addition, if you have a Great Range Traverse planned starting on AMR lands or plan to section hike part of the Great Range from AMR lands, you will need a reservation. The High Peaks in the Great Range are:
Lower Wolfjaw
Upper Wolfjaw
Armstrong
Gothics
Saddleback
Basin
Haystack
Mount Marcy
Again, the pilot reservation system is NOT for the entire Adirondack Park, just for hikes beginning on AMR lands.
Additional notes
Those arriving to Keene Valley via Greyhound or Trailways bus lines may present a valid bus ticket from within 24-hours of arrival to the AMR parking lot attendant in lieu of a reservation.
Those being dropped off or arriving by bicycle must check in at the AMR Hiker Parking Lot and produce a valid reservation.
The AMR parking lot is only accessible between the hours of 5 a.m. and 7 p.m. daily, except for overnight parking.
Walk or bike-in users with a reservation who arrive before 5 a.m. will be asked to provide their reservation upon exit of the AMR gate.
Bike racks and portable restrooms are available at the parking lot.
Residents of Keene and Keene Valley will retain the same local privileges as in years past. Please contact AMR directly for more information.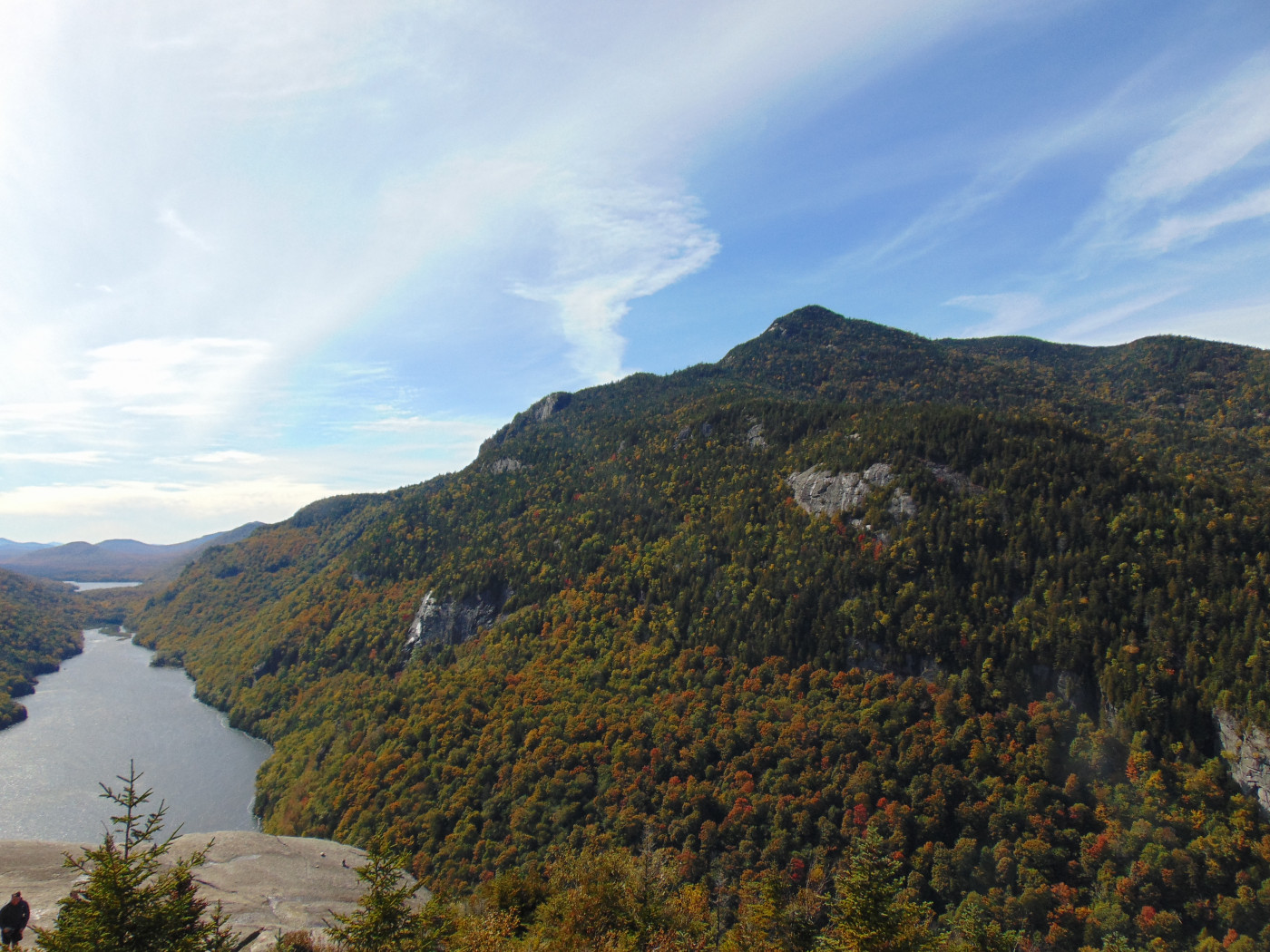 Please remember, this is a pilot program and will be used to inform future land management decisions on this conservation easement. There is something special about the Adirondacks. Here, we live, visit, work, and play in a place where millions of acres of public and private land offer us a chance to coexist with nature. By practicing Leave No Trace ethics you can do your part to ensure that the forests, waterways, and communities of the Adirondacks remain beautiful and unique for generations to come.
Learn more about the new reservation system from the DEC.* (2021 press release)
Reserve your parking on the AMR website.
The parking reservation system complements the comprehensive state and local efforts underway to reduce dangerous and illegal parking in the vicinity of AMR, including variable electronic message boards and signage, outreach and education, and increased law enforcement presence and parking enforcement.